By Jacob Harris Wright
On an unusually tranquil morning at the end of March, a few colleagues and I piled into a car and left the bustle of Manhattan, bound for Capital Camps and Retreat Center in rural Waynesboro, Pennsylvania. We were part of a caravan of professionals from JCC Association of North America whose destination was the JCCs Mid-Atlantic Regional Conference, a three-day gathering that would offer staff from JCCs throughout the region professional development and networking opportunities; a chance to refresh, recharge, and rejuvenate; and an occasion to be together in person for the first time since the start of the pandemic.
This would be my first conference since joining JCC Association a little more than 18 months ago, and even though I have strong relationships with early childhood education professionals, this gathering would be entirely different. I felt like a little fish taking my first swim in the big pond: Who will I see? What will I learn? What will I take home from this experience?
Participants came from 18 JCCs, represented every demographic imaginable, and their tenures spanned the spectrum from newcomers like me to professionals with many years of devoted service under their belts. Many of the people I met expressed to me how thrilled they are to be part of the JCC Movement. In fact, the sentiment I heard and felt most was from Psalm 133: Hineh Mah tov umah na'im shevet achim gam yachad | Behold how good and pleasant it is when all people live together as one.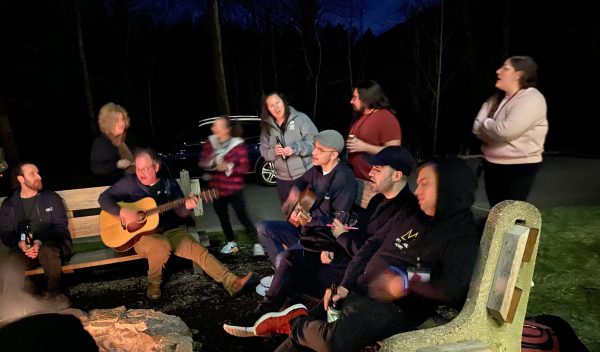 Once the conference got underway, attendees spent time in "Kindred Groups," or semi-formal "job tracks," reframing their local focus in their area of expertise—aquatics, C-suite positions, early childhood, and the like—to include a greater sense of the impact their work has throughout the movement. In these groups they also strengthened their peer support networks; were inspired by the JCC Movement's mission and their role in bringing it to life; gained new ideas to take home; and, of course, connected with colleagues they can look to for support and as a sounding board well after the conference.
The Kindred Groups were complemented by elective sessions and evening entertainment and bookended by inspiring keynote speakers, Sandy Cardin, JCC Association board member and former president of the Charles and Lynn Schusterman Family Foundation, and Doron Krakow, president and CEO of JCC Association. The powerful, thoughtful, and intentional nature of these offerings led to the success of this time together.
As for my own encounter as a JCC conference first-timer and a solo presenter, it was wonderful to be at the center of it all, and I especially loved schmoozing and connecting with everyone, which is something that comes easily to me. Facilitating my elective professional development session was more daunting—particularly given the need to strike a balance among my relative inexperience and the imposter syndrome feelings that come along with it; the desire to be my full, authentic self; and my role as a knowledgeable presenter with valuable information to share.
Thankfully, I was pleasantly surprised.
The JCC professionals in my elective contributed meaningfully to the conversation, and their perspectives, formed over many years of dedicated work within JCCs gave me, "the teacher," a chance to deepen my understanding of how to grow, lead, engage, and further frame my JCC Talent work within the context of our movement. I'm not a COO, membership associate, youth and teen programmer, nor do I hold any specialized role in a JCC. But in my session, my "students," my colleagues from the field, helped me see that while position-specific professional development is essential for building careers and strengthening organizations, it's our roles as members of teams or within a movement that truly enrich and bolster our communities. In the case of our JCC Movement community, the time I spent at the conference showed me that despite the pandemic and the many months we were apart, our strength had not dissipated. Being together with colleagues in person and face-to-face helped me see our strength—and our community—in a totally new and different way.
Jacob Harris Wright is the program associate for the Sheva Center for Innovation in Early Childhood Jewish Education and Engagement at JCC Association of North America.