By Jason Vasquez
"See you at Shabbaton!"
I first heard those words almost 17 years ago as I left the Shorefront YM-YWHA's camp office following a job interview for a head counselor position at the Y's summer camp. A few nights earlier, I'd lost a bet with a friend and as part of the wager, I was attempting to get a job at our local JCC.
As he said at the time: "What's better than working with some of your best friends while having an awesome time?" There's probably not much that's better than that, but I did have a few questions: "What's a Shabbaton?" "What's a JCC?" and finally, "What have I gotten myself into?"
Today, with deep gratitude for my experiences as a JCC professional and my participation in JCC Talent, I am proud to say that I know the answers to those questions—and many more. To date, I've attended 13 camp Shabbatons and cracked the code about what the JCC Movement stands for and represents, all of which put a career roadmap in place for me. So, let me tell you a bit about what I got myself into as the result of that long-ago wager with my friend.
I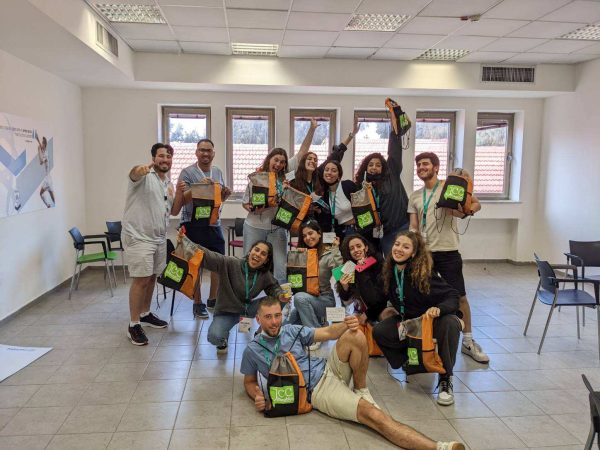 set myself up for a journey that, with its share of twists and turns, has helped shape my personal and professional life to this day. Beginning as a summer camp counselor and with many stops since then—nine to be exact—I've now spent most of my career in the JCC Movement. Today I am the chief program officer for the Kings Bay YM-YWHA/JCC Brooklyn, and I can say with confidence that the one thing that never wavers within the movement is the opportunity to learn. As a lifelong learner, I cherish this attribute as much as all the knowledge and education I gained at those nine stops, each of which moved me further along my career roadmap.
Although I'd long thought about pursuing a degree in higher education, I found myself putting it off year after year for no reason. Comfortable with myself and my continued growth within the JCC network, I felt no need to alter the recipe that seemed to be working. That all changed abruptly when COVID-19 entered our lives and for the first time ever, I found myself genuinely struggling to devise solutions to problems I had not encountered before. Although my thinking seemed sound, it lacked whatever was needed to deal with the issues of the day.
How, I wondered, could I gain the skills necessary to address these challenges? And would I learn them at any point in the future?
Rather than leave these queries to chance, I realized I needed to be proactive. When I spoke them out loud and articulated my newfound will to return to school, Leonard Petlakh, executive director of Kings Bay YM-YWHA/JCC Brooklyn recommended I look into the JCC professional development scholarship program, part of JCC Talent. Today I am fortunate and honored to be a recipient of this funding in support of my MBA studies and about to enter the fifth of six modules en route to the degree. As a student, I am learning concepts I did not even know existed and applying them to all facets of daily life. Regularly I mold specific ideas from my studies to help create strategies and solutions to questions I face. Looking at items from different perspectives has been one of the most rewarding experiences along this part of the journey.
Regardless of title, tenure, age, sex, gender identity, or other characteristic, each of us has a purpose within the walls of our JCC, and every day, we contribute to making an impact in our own community. Though we take different paths on our journeys, the lifecycle of the JCC Movement is infinite, which, for me, makes the JCC professional development scholarship program priceless—specifically, because it is giving me skills and abilities to make a more significant commitment to help and teach the employees, colleagues, and friends I encounter in all facets of my life.
JCC Talent has confirmed my professional place in the world. As a forward thinker, notions about my next step are never far from my mind. I see now—with 20-20 vision—that I have set higher goals, and I am destined to do more, although in what specific capacity has yet to be determined. Looking back on the last 17 years, I am proud of who I am and where I am going, and my professional development scholarship serves as a regular reminder and measurement of my JCC journey. JCC Talent is expediting my growth and helping me become a better change agent—all while educating those around me in the process.
Each of us needs to start our journey somewhere, and—especially for those who may be questioning their next steps or where they're headed—participating in a JCC Talent offering may be just the thing that gives you a roadmap to success.
Jason Vasquez is the chief program officer for the Kings Bay YM-YWHA/JCC Brooklyn.