FOR IMMEDIATE RELEASE:
May 4, 2023
CONTACT:
Joanne Harmon, Chief Marketing Officer, JCC Association of North America, [email protected]
Jane E. Herman, Senior Writer, JCC Association of North America, [email protected]
JCC Association Selects New Cohort of Merrin Teen Professional Fellows
Emerging leaders engage teens in Jewish life and build JCC Movement's leadership ranks
NEW YORK — JCC Association of North America has selected 17 emerging leaders as members of Cohort XII of the Merrin Teen Professional Fellowship. The 14-month program, part of JCC Talent, is designed for JCC professionals who work directly with teenagers in Jewish Community Centers and Jewish Community Camps (JCCs) across the continent.
Merrin Fellows gain leadership and management skills, strengthen their professional networks, advance their career path, and deepen their Jewish knowledge. Most importantly, they develop expertise in serving teens effectively, including connecting them to the Jewish community and its values, as well as to multiple facets of Jewish living, learning, and celebrating—practices that can endure throughout the teens' lives. The fellowship includes three in-person seminars, monthly webinars, collaborative work in small groups, and a 10-day intensive seminar in Israel scheduled for the fall of this year.
"JCC Association proudly welcomes another group of remarkable JCC professionals to this prestigious program. The engagement of our teens has always been a priority for the Jewish community and for our movement, but today, at a time of declining levels of participation in Jewish life, the training and education received by our Merrin Fellows will position them well to be an effective part of our efforts to turn the tide," said Doron Krakow, president and CEO of JCC Association.
For Alan Scher, an alumnus of Cohort VI in 2008, his experience as a Merrin Fellow demonstrates the program's power to retain Jewish professionals by offering them a solid springboard into Jewish communal life. "The curriculum works," he said. "We knew JCC Association was investing in us as teen program professionals but also as catalytic leaders in JCCs for the short term and the long term." Scher, CEO of the Kaiserman JCC in Philadelphia, Pa., continued, "At the time, I wasn't sure whether my working at a JCC was a lark, a coincidence, or a potential career, but at the end of that first seminar, I was deeply inspired and knew I would be an exec one day."
The Merrin Fellowship is generously funded by Seth Merrin and Anne Heyman, z''l, making it possible for JCC professionals who work with teens to better serve this critically important sector of the Jewish community. The program enhances Merrin Fellows' professional profile in their JCCs and throughout the movement, as well as enriches and deepens their Jewish identities and helps them augment their own network of Jewish communal professionals—in JCCs and other organizations—across North America.
The new cohort of Merrin Fellows comprises 17 JCC professionals who were selected from a pool of highly qualified applicants.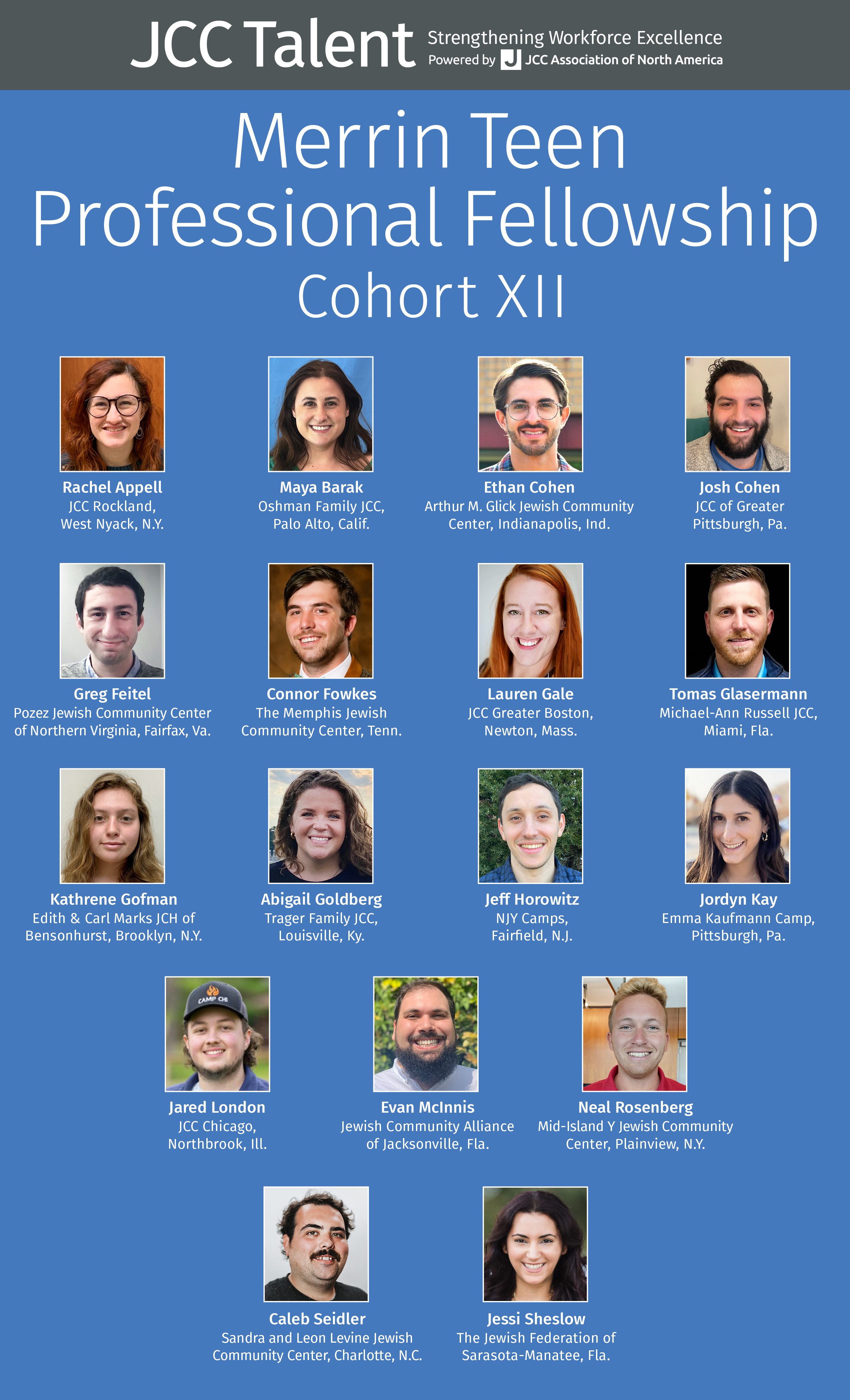 Rachel Appell is the special projects coordinator at JCC Rockland in West Nyack, N.Y., where she directs the Beyond the Bell after-school program and J-Teens. She previously worked in the adult life department and the Deborah Koenig early childhood program before serving as the assistant director of All Day at the J, the full-day, remote learning program run by the JCC during the pandemic. Appell graduated from SUNY Geneseo with a bachelor's degree in history and a minor in theatre. She is passionate about social justice and community service, areas that are part of her professional role, including her participation as a Tzedek Fellow offered through JCC Association. Rachel is a huge Disney fan and loves to spend time with her cats.
Maya Barak is the year-round program coordinator and summer program director of Maccabi Sports Camp at the Oshman Family JCC in Palo Alto, Calif. She previously served as the camp's teen programs manager. A graduate of the University of California, Davis, Barak holds a bachelor's degree in international relations with an emphasis on peace and security, an area of study in Africa and the Middle East, and a minor in human rights studies. While a student, Barak was a counselor and officer of the teen leadership program at Camp Kesem, a national initiative for children affected by a parent's cancer. Raised on a kibbutz, Barak loves to help people, share meals with friends and family, hike, camp, read, travel, and volunteer.
Ethan Cohen is the assistant director of youth engagement and special events and BBYO city director at the Arthur M. Glick Jewish Community Center in Indianapolis. Previously, he worked at Ace Party Rental doing customer service, marketing, and setup for events. A graduate of Indiana University, Cohen earned his degree in sports marketing and management with a minor in business. Born in Indianapolis, Ind., and raised in Dayton, Ohio, he has been a member at both the JCC he works at and the Jewish Community Center of Greater Dayton, where he participated in many of the youth programs he currently supervises. Cohen is an avid sports fan and coaches middle school basketball in the winter.
Josh Cohen is the director of Jewish teen life at the JCC of Greater Pittsburgh in Penn. Previously, he worked at multiple law firms and community organizations where he focused on nonprofit management and juvenile justice. He earned a bachelor's degree in political science with minors in community and justice studies and Jewish studies from Allegheny College and a law degree from Duquesne University School of Law. Cohen grew up at the JCC of Greater Baltimore in Md., where he participated actively in the JCC Maccabi Games, BBYO, and other programs. In his spare time, he coaches high school lacrosse in the Pittsburgh area and previously coached collegiate and international lacrosse.
Greg Feitel is the interim director of school age services and Camp Achva at the Pozez Jewish Community Center of Northern Virginia in Fairfax, Va. Previously, he served as camp program coordinator, camp program manager, and camp director at the Edlavitch JCC of Washington, DC. He earned a bachelor's degree in political science from Virginia Commonwealth University, a master's certificate in social work from the University of Michigan, and is a certified inclusive recreation specialist. Greg grew up at the Pozez JCC, where he has spent more time than anywhere else in his life and is thrilled to bring his professional skills to the community. When not working, Greg spends time outdoors, playing with his dog, Rebbe, and reading.
Connor Fowkes is the associate director of youth, camp, and family services at The Memphis Jewish Community Center in Tenn. A native of Illinois, his passion for serving families and youth has taken him to numerous states, including Michigan, Oregon, Kentucky, and Tennessee. Fowkes' sense of travel and adventure brought him to Western Kentucky University, where he earned a bachelor's degree in sports management. He also holds a master's degree from Memphis Theological Seminary. Fowkes designs and develops active, creative programming that not only enables participants to grow and connect but also to have fun! This mindset is evident in his own life, where he enjoys the natural world, sports, baking, and listening to podcasts and vinyl records.
Lauren Gale is the head coach for Karishim Swim Club at the JCC Greater Boston, where she has worked since 2018. Gale earned a degree in history and secondary education from Bridgewater State University, where she was on the swim team and ran the school's swim lessons and Special Olympics swim meet, among other extracurricular activities. Gale also holds a degree in nutrition and wellness, which led her to focus her professional work on the connection that sports and healthy choices have on long-term, positive outcomes for children.
Tomás Glasermann is the Maccabi Tzair coordinator at the Michael-Ann Russell JCC in Miami, Fla., where he previously was the after-school program director. A native of Caracas, Venezuela, Glasermann immigrated to the U.S. in 2016, bringing with him a passion for teaching Jewish and Zionist values and experience in the JCC Movement. For four years, beginning in 2013, he served as the second-in-command for MTCLAM, Maccabi's international umbrella organization, traveling to Maccabi communities around the world to organize leadership seminars to train and advise Maccabi Tzair madrichim, roshim, and staff. Glasermann also led leadership development programs and oversaw organizational changes for various Maccabi branches. Glasermann earned a leadership certificate through the Machon LeMadrichim organization in Israel.
Kathrene Gofman is the director of teen services at the Edith and Carl Marks JCH of Bensonhurst in Brooklyn, N.Y. She earned a bachelor's degree in corporate communications with a double minor in law and human resources from Baruch College, part of the City University of New York (CUNY) system. A native and lifelong resident of Brooklyn, Gofman's family immigrated to the United States from Gomel, Belarus, where she has citizenship and has visited many times. In her free time, Gofman is an avid gardener and maintains a houseplant collection in her apartment that rivals a greenhouse. She is also fond of reading, hiking, and swimming.
Abigail Goldberg is the teen director at the Trager Family JCC in Louisville, Ky. In this role, she is the city director for Louisville BBYO and the manager of NEXTGen Louisville, conducting philanthropic outreach for the latter organization. Goldberg earned a bachelor's degree in psychology with a minor in business administration from Longwood University in Farmville, Va. She grew up at the JCC in Louisville, where she attended Hebrew school and was a member of the JCC Gators swim team. Goldberg is passionate about fitness and athletics, especially kayaking, yoga, and kickboxing. She also coaches a high school field hockey team.
Jeff Horowitz is the assistant director of Camp Nah-Jee-Wah at NJY Camps. A former Nah-Jee-Wah camper, he previously served as the camp's marketing director. In his current role, he creates camp programs for NJY's 1st to 6th graders, engages with families, and contributes to staff development, all areas in which he is passionate. Horowitz graduated from Binghamton University with a degree in business administration and is pursuing a master's degree in public administration at Rutgers University. In his free time, Horowitz enjoys his favorite New York sports teams.
Jordyn Kay is the assistant director of Emma Kaufmann Camp, part of the JCC of Greater Pittsburgh in Pa. She previously was the director of youth engagement at Temple Israel in Westport, Conn., and director of family life and logistical operations at Tamarack Camps in Mich., where she was a camper. Kay also worked as the regional director of Jewish enrichment for BBYO in Metro Detroit, where she currently serves as a Jewish education consultant. Kay is a graduate of University of Michigan with a degree in psychology and a minor in Judaic studies. When she's not working, Kay enjoys traveling to visit family and friends and discovering new places.
Jared London, known as "J-Lo," is the program and teen coordinator at JCC Chicago's Camp Chi, where he has spent every summer since 2007. Prior to joining the camp's full-time staff, London was a lifelong Camp Chai camper, counselor, and unit head. His expertise in creative programming ensures engaging and meaningful experiences for the young people he works with and demonstrates his passion for the power of camp and the Jewish community. When not at camp, London loves to travel, experiment in the kitchen, and spend time with his family.
Evan McInnis is the youth services assistant director at the Jewish Community Alliance of Jacksonville, Fla. In this role, McInnis develops programs for youth and teens and is the director of Camp Sabra. Prior to returning to the JCC Movement in 2020, he spent three years as a camp and after-school counselor. McInnis earned a bachelor's degree in communications from the University of North Florida, also in Jacksonville, and is a GENERATE Teen Fellow, a program of the Jewish Education Project. He is passionate about helping youth develop confidence, empathy, and connection. In his spare time, McInnis enjoys fishing, spending time in nature, and watching WWE wrestling.
Neal Rosenberg is the assistant director of teen programs and travel camps at the Mid-Island Y Jewish Community Center in Plainview, N.Y. He previously was the JCC's teen program supervisor. With his proficiency in relationship building and leadership training, Rosenberg has successfully helped hundreds of teens expand their networks and leadership abilities. Growing up, he was a member of the Suffolk Y JCC in Commack, N.Y., where he learned to swim and first developed a passion for sports. Rosenberg's heart lies with the New York Yankees, and if not rooting for the team, he frequently can be found on the golf course.
Caleb Seidler is the family and community life coordinator at the Sandra and Leon Levine Jewish Community Center in Charlotte, N.C., the same JCC where he grew up and was hired as a camp counselor while in high school. Later, the JCC hired Seidler as the youth and camp associate. With a passion for building and cultivating Jewish community, he started a Moishe House in Charlotte that grew from hosting a 10-person Shabbat dinner to averaging 30 community members at events. Over time, leadership of this growing community of young Jewish adults was passed to the next generation of residents. When not working or volunteering in the Jewish world, Seidler enjoys playing the guitar, learning the banjo, and exploring hiking trails in the Blue Ridge Mountains.
Jessi Sheslow is the manager of the teen and family programs department and former director of community relations at The Jewish Federation of Sarasota-Manatee in Fla. She is also an accomplished television producer, having previously worked at E! Entertainment in Los Angeles on E! True Hollywood Stories and E! News Specials. As an activist, Jessi often focuses on issues affecting Jewish peoplehood and the advancement of the Jewish homeland as a place to sustain peace, side by side with peaceful neighbors. She is considered a "cultural architect" for the work she does in the community. Jessi is a graduate of the Anti-Defamation League's Glass Leadership Institute and holds a master's degree in nonprofit management from Gratz College.
For more information about the Merrin Teen Professional Fellowship Program, contact Joy Brand-Richardson ([email protected]), vice president of professional development at JCC Association.
The application process for Cohort XIII of the Merrin Teen Professional Fellowship will launch in the spring of 2024, and the cohort will convene for the first time in the fall of 2024.
###
About JCC Association of North America
JCC Association of North America leads the JCC Movement, which includes more than 170 Jewish Community Centers and Jewish Community Camps (JCCs) and is the most expansive platform for Jewish life in the U.S. and Canada. With 12,000 full-time professionals, 23,000 part-time staff, and 20,000 seasonal summer staff, the movement also is the largest employer on North America's Jewish communal landscape. For more than a century, JCC Association has valued and nurtured the growth of these professionals, along with the movement's 3,000+ lay leaders, providing them all with a breadth and depth of offerings to help them meet the evolving needs of the 1.5 million weekly in-person and online visitors they serve, including individuals, families, communal groups, and others. By virtue of its size and scope and guided and supported by JCC Association, the JCC Movement dynamically influences efforts to create Jewish community, vibrant Jewish life, and intentional and measurable Jewish outcomes—in local communities and across the continent. Learn more at JCCA.org or on LinkedIn, Facebook, Instagram, and Twitter.
Please note that JCC Association should not be referred to as JCCA or the JCC Association but rather as JCC Association.
JCC Talent elevates JCC professionals and lay leaders and the workplaces they serve by offering experiences and initiatives that enhance Jewish knowledge, foster cultures of inclusion and belonging, and strengthen the JCC Movement's talent infrastructure. Learn more in the JCC Resource Center or email [email protected].