By Alexandra Nyashina
From the very first moments of the war in Ukraine, Jewish organizations from Israel and North America have been on the ground to receive and support both Jews and people of other faiths fleeing for their lives. A critical need for Russian and Ukrainian speaking skilled professionals has arisen, and Jewish Federations of North America (JFNA), in partnership with the American Jewish Joint Distribution Committee (JDC), the Jewish Agency for Israel (JAFI), and IsraAID, is matching North American volunteers with placements across the region. The JCC Movement, through JResponse®, a signature program of JCC Association of North America, is encouraging qualified JCC professionals to step up and say, "Hineni | Here I am."
Alexandra Nyashina, director of volunteer services at the Riverdale Y in New York City was among the first to step forward. She recently returned from two weeks in Warsaw, Poland, and the Poland-Ukraine border, where she assisted refugees under the direction of JDC. Each week before Shabbat, she reflected on her experiences during the preceding days. As Passover draws to a close, we offer, as this week's Shabbat Shalom message, a glimpse into Alexandra's story, and, of greater significance, the lives of the people who, even today, are participating in an exodus from oppression to freedom, just as our people did when they left Egypt. 
April 8, 2022
"We're compelled to assume that any moment could be the moment. That the way we respond, or don't respond, could come to define us."
— Rabbi Sharon Brous, Ikar, a leading-edge Jewish community in Los Angeles that seeks to inspire people across the religious spectrum
This statement is especially applicable to my current experience. I am writing from Poland, where my JCC colleague, Lana Dennis [from the Levin JCC in Durham, North Carolina], and I are helping Ukrainian refugees.
Lana and I first met during JResponse training, which taught us how to respond to a crisis. We expected to help across the United States. Yet, here we are, one from New York, another from North Carolina, working together with other Jewish professionals from around the globe to address the needs of Ukrainian refugees as they go through aliyah or repatriation in Warsaw, Poland. All of us who are helping the refugees come from different backgrounds. Some are from Israel. Some are from Ukraine, Belarus, or Russia. All share a few common characteristics that define a Jewish professional—the will to do what is right and the want to execute any detail, no matter how small, in support of the greater mission.
We allow the stories of strife, grief, and stress to wash over us. We hear the stories of loneliness, fear and helplessness. We see the hope and gratitude in the eyes of those we speak to. The memories of missiles, the visible strain of days, weeks, and months of travel all gather in the crow's feet at the eyes of babushkas. We only see women, children, and old folk. The men are at home, protecting their homeland, defending those who cannot leave. The women are wracked in guilt. How do you leave your husband, your brother, son, father at home while you save your mother, sister, daughters? How do you leave your son to be with your daughter? Who is more important?…
These are the stories JResponders know how to listen to. The skills we learned—readiness, relief, recovery, and resilience—are used every day and every moment. We listen, letting the words flow through us. We help the stories go into the wind, allowing the folk to slowly move on. They have a future to look forward to. For now, they give us their past.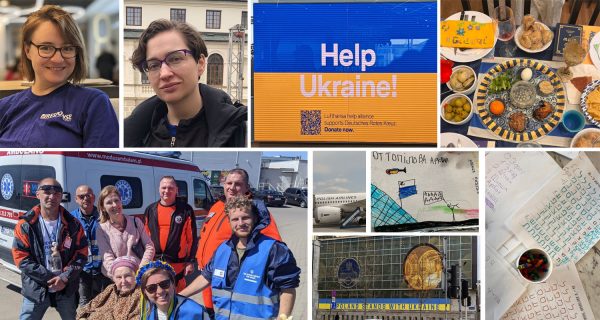 April 15, 2022
War has been going on for two months now. Almost 24,000 civilians have died in Ukraine. [More than seven million] have been displaced. Women. Children. Old people. Jews. Christians. Muslims. Everyone has been affected by this tragedy. The response to help has been amazing. People collect money, open their homes to refugees, buy clothes and medicine. I have seen with my own eyes the tragedy of people experiencing homelessness. My father says, "Home is a place in which you are born, you keep your books, and you die." The Ukrainian people affected by the war have lost this sense of home. Books burned. Babies born on the border. Older folk passing away en route to safety. This [scene] is heart wrenching.
But there is hope. People all over the world are willing to help. Amazingly, people from all over the world are following the Jewish learning of lo tireh, that we shall not turn aside when another is suffering. Local communities in Poland have opened up to help refugees take a breath before they choose where to go. Global communities have sent their representatives to the border to help the refugees go to their new home.
So much work has gone into helping each family. For example, a mother with a 3-month-old child [and] a grandfather who can barely walk are all welcomed by the volunteers working tirelessly day and night. The impact is evident. The grandfather has new shoes! He has been in his slippers for the past month, as he left his home in the middle of the night. He shares his story as he collects new shoes; the trauma of the past weeks slowly slipping away from his face. The baby has a new onesie! She is adorable and is growing out of her clothes so fast. Her mother shares her stresses—the fears of being discovered as the baby cried through the night. The mother shares her worry of not being able to be with her husband. He is at home with their 18-year-old son. She knows that grandparents are waiting for her in Israel. She hopes that she will be reunited with her family soon.
This is a non-stop narrative of tragedy, loss, and fear. It is [also] non-stop proof of bravery, heart, and hope. As a JResponder, I have served under the Jewish value [of] pidyon shvuyim—helping redeem and free those held captive by trauma [caused by] crisis. Entering this Shabbat, I am looking forward sharing more stories and inviting the next [set] of volunteers to say, "Hineni," [and to] step up and serve.
Chag Kasher v'Sameach v'Shabbat shalom | חַג כָּשֵׁר וְשָׂמֵחַ וְשַׁבָּת שָׁלוֹם
Alexandra Nyashina is the director of volunteer services at the Riverdale Y in New York City.