JWB Chaplain Warren Receives Military Chaplains Association's Distinguished Service Award
Efforts Promote Safe and Meaningful Delivery of Care Throughout the Pandemic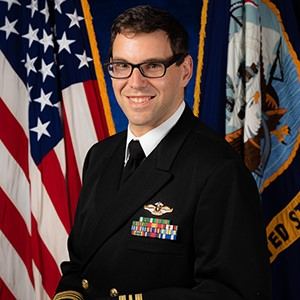 NEW YORK — Lieutenant Commander Yonatan M. Warren, a U.S. Navy chaplain and member of JWB Jewish Chaplains Council® (JWB), a signature program of JCC Association of North America, recently received the Military Chaplains Association 2021 Distinguished Service Award. A leader, mentor, and humanitarian, Warren serves as the Pastoral Care Services Operations and Readiness Officer at Navy Medicine Readiness and Training Command in Portsmouth, Virginia, and at nine branch medical clinics.
Throughout the ongoing pandemic, he has skillfully attended to the spiritual needs of Navy personnel and others on the front lines of medicine. At patients' bedsides, amidst the bereaved, and among staff and colleagues, Warren consistently offered tremendous support and care to countless individuals as part of the COVID-19 response for Navy Medicine.
In his nomination letter, R.J. Houk, Chaplain of Navy Medicine, stated, "Rabbi Warren's pastoral strength and organizational creativity maximized the response of Pastoral Care to ensure delivery of care throughout Navy Medicine that is both safe and meaningful." According to Captain W.M. Haddad, Region Chaplain, Navy Medical Forces Atlantic, who offered a recommendation in support of Warren's nomination for the award:
His inestimable efforts on over 30 different regional projects and working groups demonstrate his ability to inspire productive team work and organize efficiencies with strategy and vision. From Vice Chair of the Palliative Care Committee to the Chaplain Corps Facilitation Working Group, LCDR Warren's keen advisory skills and developed resource capabilities are paramount in service to Fleet readiness, and the lively pursuit of excellence.
Rabbi Irving A. Elson, director of JWB and a vice president of JCC Association, noted, "Rabbi Warren exemplifies everything we look for in a military rabbi: professionalism, patriotism, and a devotion to caring for our men and women in the sea services. Chaplain Warren is Navy chaplaincy at its best."
Warren is a graduate of the University of Maryland, College Park, and the Graduate School at the Jewish Theological Seminary (JTS). Following ordination from the rabbinical school at JTS in 2011, Warren reported for active duty as a chaplain in the United States Navy. In the decade since, he has served with Marine Corps units in the Pacific, at sea aboard the USS Oak Hill, and as staff at the Naval Academy in Annapolis, Maryland. In his current role, Warren is a clinical chaplain at Navy Medicine Readiness and Training Command in Portsmouth, Virginia.
# # #
About JWB Jewish Chaplains Council®
JWB Jewish Chaplains Council® (JWB) is a nonprofit, U.S. government-accredited agency that serves the religious needs of Jewish military personnel and their families, wherever they serve, as well as patients in VA hospitals. Founded in 1917, on the cusp of World War I, the Jewish Welfare Board (JWB), as it was known at the time, sought to serve young Jewish men entering the military. Today, JWB Jewish Chaplains Council®, a signature program of JCC Association of North America, continues this work by honoring the service of Jewish men and women in the United States armed forces, safeguarding their rights, fulfilling their spiritual needs, and combating loneliness and isolation.
About JCC Association of North America
JCC Association of North America leads and connects the JCC Movement, advancing and enriching North American Jewish life. With 1.5 million people walking through the doors of more than 170 Jewish Community Centers and Jewish Community Camps (JCCs) each week, the JCC Movement is the largest platform for Jewish engagement on the continent. JCC Association, the convening organization of this dynamic network, partners with JCCs to bring together the collective power and knowledge of the entire JCC Movement, including 12,000 full-time and 41,000 part-time and seasonal professionals. By supporting them, together we enhance and strengthen Jewish life throughout North America. Learn more at JCCA.org or on Facebook, Instagram, and Twitter.