"My love for Israel and Jewish tradition is great; consider being a Zionist."
– Martin Pear, z"l, in his ethical will to his children
JCC Association of North America recently launched The Martin Pear Israel Fellowship, part of JCC Talent, to honor the memory of Martin Pear, z"l, a longtime, consummate JCC executive director. Pear retired in 1994 and was a frequent user of Valley of the Sun JCC when it opened eight years later in Scottsdale, Arizona. Pear's connections to Israel fueled his passion for the country's land, history, people, and cultures and inspired his work in the greater Jewish community.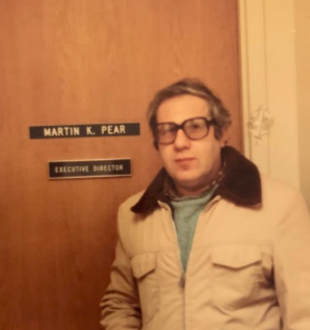 A lifelong athlete, Pear received scholarships to play football, basketball, and baseball at the Wooster Prep School in Danbury, Connecticut. After earning a bachelor's degree and playing baseball at Bethany College in West Virginia, Pear began his work in the JCC world in the health and physical education department at the Hartford JCC in Connecticut, in the late 1960s. There, emboldened by the J's values, efforts to unite diverse individuals, and commitment to celebrating Jewish life, he successfully combined his passion for sports with his love of connecting with people, building relationships, and modeling inclusivity.
From Hartford, Pear, his wife, Beverly, and their young son—the first of four siblings—moved on to the Worcester JCC in Massachusetts, where he began as the health and physical education director and worked his way up to assistant executive director. As his career took off and his family grew, Pear served as the executive director at JCCs in Binghamton, New York; Tampa, Florida; and, ultimately, Phoenix. (In the late 1990s, the Phoenix JCC, needing more space than its downtown facility offered, relocated to Scottsdale, where Valley of the Sun JCC opened in 2002 on the Ina Levine Jewish Community Campus.)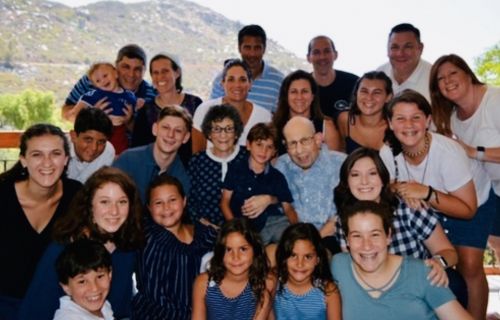 Not surprisingly, in each community, the JCC was a second home and an extension of their family for Pear's children, who attended the J's after-school programming and camps and participated in basketball, tennis, swimming, and theater activities. "Very often," his daughter, Rachel Hoffer shared, "our dad would pop into our activity, give a wave, or blow us a kiss." Pear had an open-door policy for members, professionals, and his kids, Rachel said. "We would often stop into his office for a quick candy from his candy drawer, … sit at his desk to do our homework, or just … witness him with other professionals or members."
The agency also offered them their first paying jobs, which is how Rachel met her husband, Jonathan, shortly after graduating from high school. Pear had hired Jonathan, who was 19 at the time, to run the J's summer day camp, the latter recalled:
"I had the unique honor of calling Marty one of my first bosses, a true mentor in my life and, ultimately, after meeting his amazing daughter at the JCC, my father-in-law. His work ethic, empathy, and passion for the JCC and Israel were second to none. He truly embodied what the JCC Movement is all about and was everything one could hope for in an executive."
Always comfortable greeting newcomers, encouraging staff, and chatting in the hallways, Pear loved the people who called the JCC home, and many conversations ended with an invitation to the family's home for Shabbat or a holiday celebration.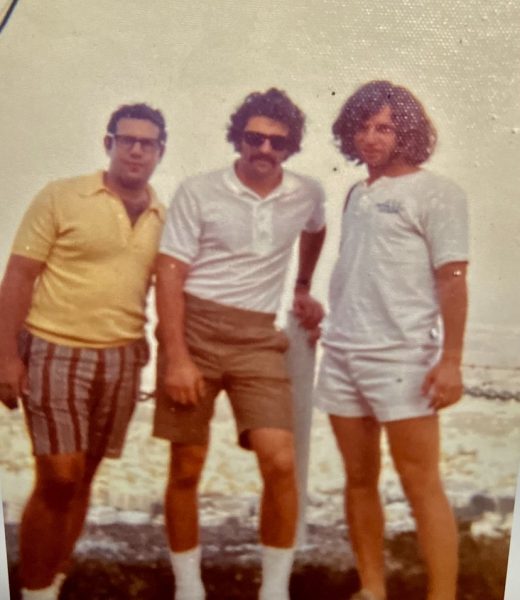 Pear and his wife traveled to Israel for the first time in the early 1970s, and the journey greatly influenced his career. Hoffer recalled that the JCCs where her dad worked always had wonderful Yom HaAtzmaut celebrations, annual visits from Israeli scouts, lots of Israeli music and dancing, and shlichim (young adult emissaries). Israel held a special place in Pear's heart, and when a son and daughter-in-law moved there, he and Beverly visited often. His children fondly remember that their father often found himself wandering by himself at the shuk, kibitzing with people, hearing their stories, and sharing his own. Growing, adapting, and honoring those who came before him were among Pear's core values. He believed that Israel—a land of diverse people who created a beautiful community—exemplifies them all.
The Jewish idea of l'dor v'dor (from generation to generation) also personally and professionally guided Pear. Love of family was paramount in his life, and even though he often returned to the J for evening programs and activities after work hours, he did so with the full support of his entire family. In turn, when she played tennis in high school, Hoffer recalled, her father not only attended every match but did so with "a cooler of orange slices and plate of brownies for my team." Throughout his career, Pear mentored and cultivated Jewish professionals in all the communities he served. However, he could only dream about an initiative connecting these individuals—who give so selflessly of themselves—to Israel and the JCC Movement.
The core values by which Pear lived his life are the foundation of The Martin Pear Israel Fellowship. The 18-month program includes 12 months of in-person gatherings, web-based learning sessions, and a rigorous, immersive, 10-day experience in Israel, as well as six months of independent project implementation, all designed to educate, train, and retain JCC professionals new to the movement as they explore their relationship to Judaism and leverage their experiences to bring Israel to life in their JCCs and beyond. The inaugural cohort of Pear Fellows comprises 19 professionals who will gather online for the first time early in 2023. Through The Martin Pear Israel Fellowship, which embodies the spirit and values he held most dear, Pear Fellows will honor his memory and perpetuate his legacy through their work to bring Israel alive in Jewish communities across North America—today and for generations to come.
To learn more about The Martin Pear Israel Fellowship and the JCC professionals in the inaugural cohort, read this announcement.