By Isabel Mares
From March 27 to 29, 2023, over 100 professionals representing 10 JCCs from the Great Lakes region gathered at the JCC of Greater Buffalo for two and a half days of community building and connection. As JCC Association staff and leaders traveled across the continent to attend regional conferences this spring, I was thrilled to participate in this gathering.
This was my first overnight trip since my daughter was born last April. Whether presenting, sharing a kosher meal, or chatting between sessions, the conference was precisely where I wanted to mark this milestone. Indeed, it was a milestone event for many of our colleagues across the JCC Movement. For professionals new to the JCC field, it was an introduction to movement-building. For those who weathered the challenges of the pandemic, it was a reminder of our resilience and an opportunity to reconnect. For longtime JCC professionals, some of whom have served for more than 20 years, it was a celebration of their immeasurable contributions and a reminder of their connection to the movement. For all of us, it was a precious time to have meaningful conversations, learn together, deepen our work, and find inspiration.
The conference featured dynamic presentations by JCC leaders and experts on topics including interfaith engagement, inclusion, Israeli politics, budgeting, onboarding, Jewish mindfulness, and youth and family mental health. It also offered opportunities for deep conversation and connection in over a dozen affinity groups. I found it particularly meaningful that most of the programming was onsite at the JCC.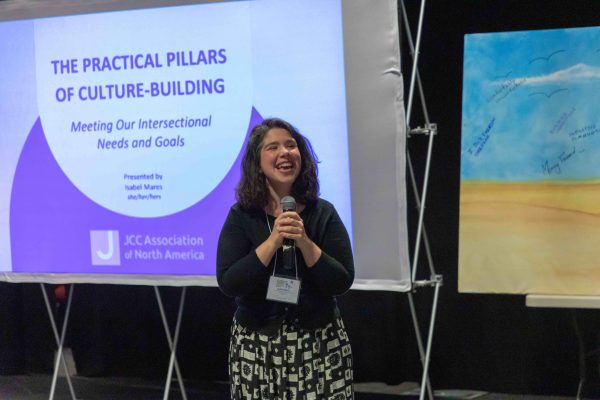 During my session, "The Practical Pillars of Culture Building: Meeting Our Intersectional Needs and Goals," I discussed a wide range of experiences from my own intersectional journey, from the performing arts to interfaith seminary studies to human resources to nonprofit fundraising and programming. I reflected on my four years with the JCC Movement and lessons learned from pandemic recovery. I acknowledged the connections among internal culture, community engagement, and philanthropy, backed by data and Jewish values.
I asked two conference participants to share their perspectives on the experience with me.
Esther Arbeid, director of community programming at the Miles Nadal JCC, said: "A big highlight was Isabel Mares' session on intersectional demands in serving our diverse Jewish communities. I loved how she opened by sharing her own professional and personal story, which included different parts of her life where distinct communities and identities intersected. The best part for me was when I took part in an exhilarating and joyous 'yes, and' improv exercise on stage with a colleague to demonstrate the power of removing—or getting creative with—barriers."
I knew I would be sharing the proverbial stage with amazing Jewish educators, so connecting with Jewish wisdom was just as important as showcasing statistics on creating cultures of belonging across HR, programs, and fundraising. I drew on passages from Proverbs, Pirkei Avot (Ethics of the Fathers), and more, to spark intentional discussions about participants' work and its roots in Jewish values.
Arbeid shared, "I loved the sacred quotes about inclusion for our chavruta/discussion groups. As a longtime JCC professional in a chosen intercultural life, the quotes generated a spiritual element to this interactive session. For me, it connected the work we all do out there in our own JCCs, the inspiring work of connecting intersectional communities to us, and us to them." Ariella Monson, director of development and operations at the JCC of Ann Arbor, said, "I am going to use some of your quotes for an upcoming staff meeting, as I think our staff will have some positive discussions from them."
It was gratifying to share my story, but far more meaningful to hear the stories of my colleagues from across the U.S. and Canada. I came to Buffalo already inspired by the resilience of our JCCs over the past few years. I came with an understanding of their strengths and struggles, along with an eagerness to listen more deeply and learn together. The experience surpassed my expectations. I reconnected with colleagues and friends and forged new relationships, all in a whirlwind 36 hours away from home. I know from countless conversations, smiles, laughs, nods, and even some songs, that I am just one of over a hundred people who feel this way.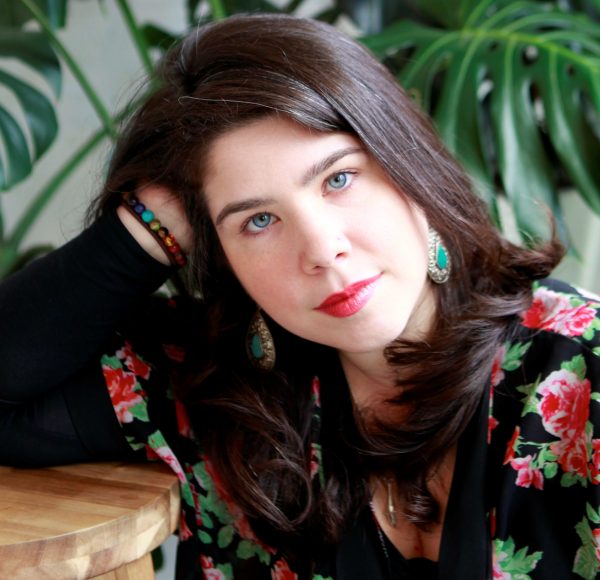 Isabel Mares is the program manager for Development and Art & Culture for JCC Association of North America.
The Great Lakes Regional Conference comprised participants from the Beachwood Mandel JCC, the Hamilton Jewish Federation, the JCC of Greater Ann Arbor, the Louis K. Wolk JCC of Greater Rochester, the Miles Nadal JCC, the JCCs of the Capital Region, the Schenectady JCC, the Sidney Alpert Albany JCC, and the Schwartz/Reisman Centre & Prosserman JCC