By Leah Garber
Israeli summers boast an endless holiday atmosphere. Dressed in casual, light-colored clothing and wide-brimmed hats, people fill the streets—on their way to and from the beach, enjoying alfresco meals under colorful awnings, and racing to finish sweet, melting ice cream treats. A lazy walk carries the scent of sunscreen in the air together with a medley of languages, spoken by hundreds of thousands of tourists who visit us each summer to share our love for this beautiful country.
For some reason, military operations, wars, and times of great tension are popular during the summer here, too. Even during times of crisis, known to Jews across the world as "the matzav," the security situation, Jewish tourists kept coming, showing their support and courage or merely their longing for warm air and Tel Aviv's beaches.
But not this summer.
Indeed, "the matzav" might be an apt description for the entire world during the last four months. Of course, this situation is not a result of human violence, but it is equally cruel, nevertheless.
The COVID-19 pandemic is here to stay for a while. More than a winter-like flu that disappears once summer's rays warm the air, COVID-19 has taught us a thing or two about human abilities and, more so, about disabilities and limits.
Israel approached this unprecedent threat determinedly and with a meticulous plan aimed to defeat it. We were among the first countries to identify the potential risks and consequences, and we took severe steps early on: forcing a complete quarantine of citizens, closing our skies, and fighting the virus as we would one of our many well-known enemies.
The Israeli people responded accordingly. Surprisingly, we followed the rules obediently, and just like in any war, we joined forces to win the battle together.
And we did.
We protected our elderly and flattened the curve. Our numbers were low; in fact, we reached record lows. We loved reciting Prime Minister Netanyahu's comparisons with other like-size countries. We bragged about our victory and rushed to reopen, discarded caution, hurried to slough off the pandemic as a thing of the past.
And there we were, once again, ahead of the rest of the world, reopening schools, malls, most entertainment and recreation facilities. But for the mandated masks, our world felt as though COVID-19 was history. We gathered in large numbers, celebrated, danced at weddings long postponed, embraced the freedom to be out and about, proud to be the first released from quarantine and its limitations.
And who can blame us?
We Israelis are known for the ability to overcome adversity and restore normality overnight. We are used to being crowned for our resilience, our sturdiness. It's our might, but it's also why we survive. We are all offshoots of fighters and winners. Overcoming is what we do; it's what we have done for 72 years. Restoring normality over and over, after every crisis, is who we are; it is in our DNA.
Even so, the new coronavirus is teaching us lessons and telling us about our inabilities—all of them. Instead of surfing on the waves of the magnificent Mediterranean, we're caught up in COVID-19's widely spreading second wave that is bringing record numbers of newly diagnosed cases every day. Unlike in the first wave, in which most cases were among the elderly, the majority of infected people now are in their 20s.
As a result, we all are taking a crash course in modesty and humility, learning to put aside our impatience and our hastiness. Limitations are back. We are allowed to gather only in groups of no more than 10 people, new guidelines are imposed daily, with a full shutdown expected to be announced in days. communities with high numbers of cases are already quarantined, and, once again, the virus is taking over.
The economic fallout, COVID-19's twin sister, is here to stay, too. Unemployment and it side effects again are on the rise, and Israelis are in the streets, calling for financial benefits and support. Unfortunately, this part of the scenario will linger long after the wished-for vaccine eliminates the virus.
My nephew, Roi, planned to marry Yael, a terror attack widow and a young mom, earlier this spring. Although everything was ready, Yael and Roi had to postpone the wedding because no gatherings were allowed in April. They rescheduled the wedding for August, but it looks like the young couple will have to postpone their wedding once again. Yet one more example of "the matzav," but this time, "the situation" is not confined only to Israel. We are all in this together, but there is no comfort in sharing it.
"May the Holy Blessed One overflow with compassion, healing the soul, healing the body, and healing all the ill among the people of Israel and all humankind, speedily, without delay, and soon, and let us all say: Amen!"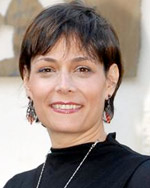 Leah Garber is a vice president of JCC Association of North America and director of its Center for Israel Engagement in Jerusalem.
Looking for other ways to stay connected to the JCC Movement? Sign up below for email updates, including our new quarterly newsletter, and visit us on Facebook, Instagram, and Twitter.