By Rabbi Irv Elson
I wrote this short blog but a few hours after completing what was perhaps one of my most meaningful scuba dives. It has been more than 45 years since I got my scuba-diving certification, and I have more than 200 dives recorded in my logbook. The logbook entry for this dive reads: "Circle of Heroes, 45 ft., 55 minutes, JWV," but those few words cannot begin to do justice to the significance or impact of the actual dive.
Located 10 miles off the coast of Tampa and Clearwater, Florida, and under the waters of the Gulf of Mexico sits our nation's first underwater veterans memorial. The Circle of Heroes dive site pays respect to military veterans and those who currently serve in the U.S. armed forces. The dive site, which currently comprises 12 life-size statues at a depth of 45 feet, is part of the greater Veterans Reef scuba diving area in the Gulf of Mexico. The underwater statues, which represent individuals serving in the U.S. Air Force, Army, Coast Guard, Marines, and Navy, are positioned in a circle around a memorial that includes bronze crests symbolizing each branch of the military.
Always in search of new and meaningful ways to honor our veterans and those who have paid the ultimate price in defense of our country, I was eager for the opportunity to dive to this most sacred place. Joining me in this dive was Larry Jasper, Florida State Commander for the Jewish War Veterans, and Rabbi Ammos Chorny, my good friend, colleague, and Gulf War Army veteran. During the 45-minute ride to the dive site, I wondered, as a combat veteran and someone who has lost friends and shipmates in battle, how this visit would affect me. The answer became clear as we entered the waters of the Gulf.
A recent storm had created poor visibility, and as we descended, I felt I truly was entering a sacred, mysterious place. Unable to see but a few feet in front of us, the first statue appeared almost out of nowhere—a haunting, barnacle-crusted, life-size statue of a soldier, carrying a wounded fellow soldier. Approaching slowly, we saw the inscription on the pedestal: "No man left behind." Yes, even with an air regulator in my mouth, I choked up. This memorial was a sacred place, indeed. Here, beneath the waters of the sea, for eternity, stood a soldier—carrying a comrade, bearing his load, leaving no one behind. We swam from statue to statue, stopping at each one to say small, silent prayers; a sailor standing watch, an airman looking skyward, an infantryman on patrol, each statue a reminder of the honor, the duty, and the sacrifice our service members have made.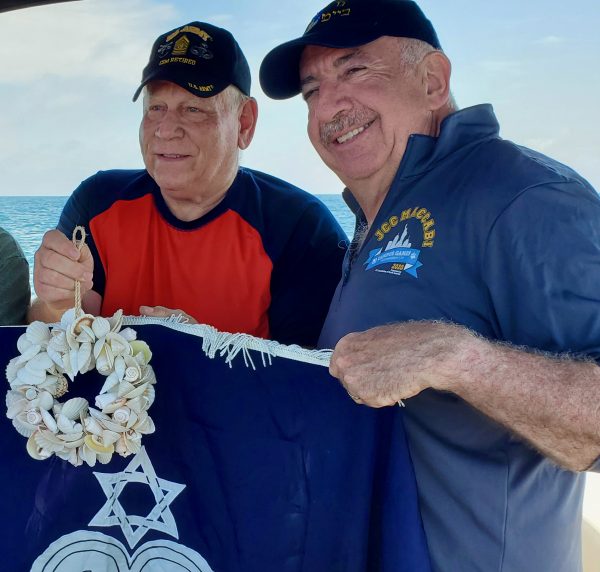 On the dive, I carried with me my Jewish chaplain flag. Proudly flown in far off lands, including on the beaches of Somalia, the sands of Iraq, and the mountains of Afghanistan, for an instant, that flag also waved with the sea currents at this underwater memorial. I also carried with me several brass JWB coins. Rabbi Chorny and I slowly and carefully placed a coin at the foot of each statue signifying our presence: "We're here, shipmates, you will not be left behind in our memory."
In Judaism, immersion in a ritual bath (mikvah) is required whenever a person undergoes a change in status—from single to married, from non-Jewish to Jewish, or from secular thinking to being spiritually ready. Mikvaot (plural of mikvah) are a collection of living waters, mayim hayyim in Hebrew. My dive to the Circle of Heroes memorial reminded me that as long as we remember our service members' sacrifices and emulate their bravery, their devotion to the ideals of our great country, and their selflessness, the waters that encompass that sacred spot in the Gulf of Mexico, indeed, are living waters, mayim hayyim, invigorating our spirits, soothing and stirring our souls, and sparking their memories, now and always.
I wish you all a meaningful Memorial Day.
Please join us on Sunday, May 30, at 7 p.m. EDT for the National Jewish Community Observance of Memorial Day.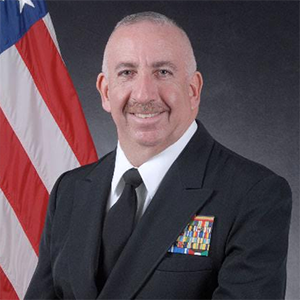 Rabbi Irving A. Elson is a vice president and the director of JWB Jewish Chaplains Council® at JCC Association of North America.