Who can resist a lovable, cute, furry blue monster?
Not me.
Ten years ago, in 2010, Sesame Workshop, creator of "Shalom Sesame," launched a new 12-part series of the show, introducing Jewish holidays, traditions, and culture to viewers of all ages. I was honored to represent JCC Association of North America as a member of the new series' advisory board. I was proud, too, that when JCC Association was selected to premiere the Hanukkah episode, "The Missing Menorah," 10,000 people (yes, 10,000 people!) all around North America watched the show all at once!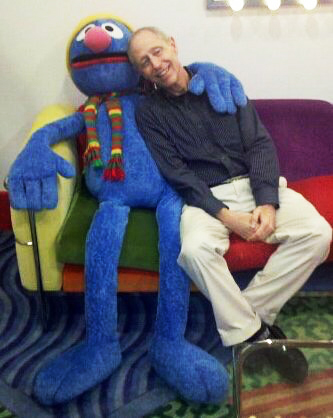 My friend, Grover, stars in the series, exploring Israel, its people and places, and learning new things. His work supports the mission of Sesame Workshop: helping kids everywhere grow smarter, stronger, and kinder. Excellent schools know how to do that. In fact, the Sesame Workshop mission dovetails seamlessly with that of our own Sheva Center for Innovation in Early Childhood Jewish Education and Engagement: to raise the excellence in JCC early childhood programs across North America.
The buzz across the United States and Canada is that JCCs have the best early childhood centers on the continent. I agree, and I think Grover does, too. Of course, now that "Shalom Sesame" is having a revival and through our exciting partnership will be making JCC Association its home, I'll be able to ask Grover directly what he thinks about JCC early childhood centers!
In the meantime, as part of this collaboration, the Sheva Center's offerings will include 12 episodes of "Shalom Sesame," as well as additional materials for families, children, and educators. Imagine our 5,000 educators and 30,000 children learning the seven Jewish lenses (Masa (Journey), Tzelem Elohim (Divine Image), B'rit (Covenant), K'dushah (Holiness) Hit'orerut (Awakening), D'rash (Interpretation), and Tikkun Olam (Repair of the World)) along with Grover!
I think Grover's favorite lens will be the same as mine—Hit'orerut (Awakening)—which is all about amazement and gratitude, awe and wonder. Grover is always so filled with energy about life and thankful for all the other monsters and humans in his life that hit'orerut is a natural fit. It's also a valuable lesson to promote during a pandemic.
In fact, we will be adding new content for our families and children that specifically addresses  the new world we all face because of the Covid-19 pandemic. It will complement the beautiful materials, created in the incredible "Sesame Street" tradition, that already exist for the program.
Although official launch will be in the fall, you can catch the "Countdown to Shavuot" episode on our Facebook page on Wednesday, May 27, at 3 p.m. ET.