Set to succeed Allan Finkelstein in February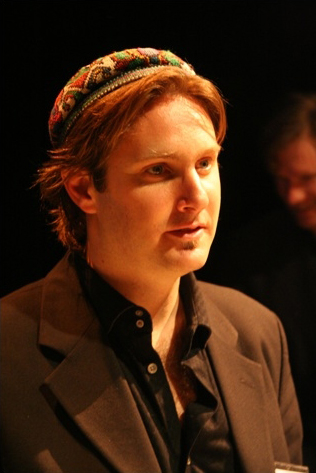 Dr. Stephen Hazan Arnoff, who successfully expanded programing and grew the 14th Street Y in New York while executive director there before going on to become the first director of the Office of Culture, Community, and Society at Shalem College in Jerusalem, has been chosen to succeed Allan Finkelstein as president and chief executive officer of the Jewish Community Centers Association, the leadership organization for almost 350 JCCs, YM-YWHAs, and day and overnight camps throughout North America.
Hazan Arnoff, 45, was selected after a nationwide search and assumes his duties in February. He is known as a thought leader with a track record of turning vision into action, according to JCC Association Chair Stephen P. Seiden, of Livingston, N.J. who announced Hazan Arnoff's appointment following JCC Association's board of directors' unanimous approval of his selection on Thursday.
"He is a high-impact leader at the intersection of the mainstream and cutting edge," said Seiden. Hazan Arnoff will succeed Finkelstein, who announced his desire to retire in early 2014 after successfully serving as JCC Association's senior professional for more than two decades.
As director of Shalem College's Office of Culture, Community and Society, Hazan Arnoff has been responsible for shaping the cultural life of the campus, as well as for creating both internal and external collaborations. At the 14th Street Y, where he became executive director in 2007, he launched a range of innovative programs including LABA: A Laboratory of Jewish Culture. He also served as a member of the senior leadership team at the Makor-Steinhardt Center of the 92nd Street Y, also in New York.
"I am deeply honored by the confidence of JCC Association leadership and look forward to our work together. JCCs touch more Jews than any other institutional framework in North America," said Hazan Arnoff, who lives in Jerusalem with his wife, Basmat—a teacher, writer, and theatre director—and their four children. "The challenge is to maximize JCCs' potential to inspire and engage the next generation of Jews who now live in a world of choice. This is an extraordinary opportunity." Hazan Arnoff will be based at JCC Association's New York City office. Consistent, however, with the close connection between JCCs in North America and Israel, he will also maintain an office in Jerusalem.
According to Alan P. Solow of Chicago, the chair of the search committee, "sought a thought leader with a record of actualizing vision. We were inspired by Stephen's brilliance, emotional intelligence, eloquence and strong record of accomplishment."
Hazan Arnoff graduated magna cum laude from Brandeis University and received his doctorate in Midrash and Scriptural Interpretation from the Jewish Theological Seminary of America. A Wexner Graduate Fellow and a Mandel Jerusalem Fellow, Hazan Arnoff was also a Revson Fellow at JTS. Prior to his Jewish professional career, Hazan Arnoff spent nearly a decade as a professional musician performing and recording solo and in bands. He has written extensively about art, religion, music and Jewish life, contributing chapters on Bruce Springsteen and Bob Dylan to books on these cultural icons, and also served as managing editor of Zeek: A Jewish Journal of Thought and Culture.

According to Larry Moses, senior philanthropic advisor and president emeritus of the Wexner Foundation, JCC Association made "an outstanding choice," selecting a person with an enormous capacity for making a difference.
"When my colleagues and I first met Stephen over 15 years ago, we were immediately impressed with his potential to have a powerful impact on Jewish communal life," said Moses. "Stephen has a unique mix of Jewish vision, inventiveness, and exceptional organizational skills. I am confident that he will provide inspired leadership for JCC Association, the JCC Movement, and the Jewish people."