Operation Protective Edge— Day 23
On the 23rd day of the fighting, we woke up to relative calm — Hamas fired significantly lower fewer rockets into Israel. Unfortunately that didn't last too long. Israel agreed to another UN request for a unilateral humanitarian cease-fire; however, once again Hamas violated the calm, firing rockets in to Israel through the afternoon. Some fell near civilians, but miraculously no one was hurt. We later learned that three Israel Defense Force (IDF) soldiers were killed today during operational activity in the southern Gaza Strip. Their deaths bring the number of fallen soldiers in battle to a painful 56. During the past day, 27 soldiers were wounded during operations in the Strip. Since June 13 there is one very clear impulse — at least in my mind — driving me and fellow Israelis, one of embracing, hugging.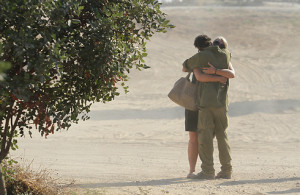 Since Gilad, Naftali and Eyal were kidnapped and murdered and through the 23 subsequent days of fighting and living under the threats of rocket attacks, I feel overwhelmingly embraced by my fellow Israelis and our Jewish communities overseas— I have a great desire to hug others. The closeness, the shared faith, the sadness and collective mourning — the fact that every Israeli family knows one of the 56 soldiers who were killed brings us close together. This afternoon I drove down south with Harriet and George Blank, two inspiring Jewish leaders that flew from the United States for three days to express their solidarity and support. As part of our visit, we met children at bomb shelters where Harriet and George gave toys they brought from home. We then drove further south to see what is probably the world's biggest hug — what was up until two weeks ago an empty open field — turned into a village of love, of giving, of embracing.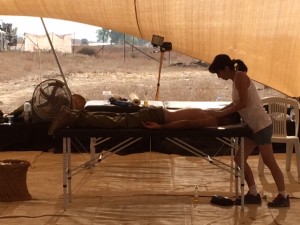 One man, Elbaz is the name, used his backyard to offer free lemonade to soldiers on their way to Gaza. In a very short time, he invited others to join him in this tremendous "group hug" and to use his backyard as a venue to pamper soldiers with a variety of free services:  massages and other type of alternative treatments; showers; rest areas with musicians entertaining; an area serving 30,000 barbecued meals daily; charging stations for cell phones; ice cream; cold beverages and all types of food and other indulgences one can imagine. It's the closest thing to home for our soldiers, but in many ways, it IS home. It's a village run by volunteers, volunteering all supplies, all products, and all facilities. It's a village of love, embracing our troops, thanking them for their courage and mission, sharing with them our group hug. Last night, in a rare speech, Mohammed Deif, one of Hamas' leaders said, "We (Hamas) glorify death, Israelis glorify life." No one could have said it better — we glorify life, and we embrace life as hard as we can! World Jewry gives its love and support to the people of Israel in ways that are inspiring, comforting and encouraging. The number of supportive messages I receive, and the very real and practical questions of "What can we do to help?" reinforce the great feeling of "we are one and we are together!" To address these inquiries, I have collected a few ideas that JCCs can use to connect your members with Israel and show support through these very difficult days. Please use the following link to learn more about different options Leah Garber Vice President JCC Israel Center