Operation Protective Edge — Day 25
On the 25th day of Operation Protective Edge, I was planning to write something about our war routine. However nothing about today is routine.
After going to sleep with the sound of the siren in the background, we woke up this morning to once again learn that five more soldiers had been killed yesterday.
But with this tragic news, we had some hope too, as a 72-hour cease-fire was announced. This time, since all sides not only agreed to respect it, but also declared they are willing to meet in Egypt for negotiations, we were particularly hopeful. We were looking forward to at least 72 hours of relaxation but very soon, too soon, we learned that our optimism was premature.
Just 90 minutes after the ceasefire began, Hamas again broke the agreement and fired rockets into Israel. But much worse than that — the worst scenario, one that we had all feared — Hamas kidnapped an Israeli soldier, 2nd Lt. Hadar Goldin, 23, from Kfar Saba. Hadar lived in Britain and is engaged to be married in six weeks.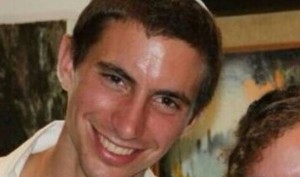 The incident occurred when Hamas' terrorists attacked our troops from one of their underground tunnels, designed for carrying out such acts. The IDF is blaming Hamas not only for once again breaking the cease-fire, but for taking advantage of the lull to take one of our soldiers hostage. Two soldiers were killed in this incident and several were wounded, some severely. We now cry for 63 Israeli soldiers who courageously gave their lives for the hope for a better future.
These deadly tunnels are at the heart of this operation, and are one of the central stumbling blocks to a cease-fire.  Israel continues to demand that forces remain in Gaza to take out the tunnel system. If they do not, Hamas can continue threaten Israel's southern communities and army bases.
Israel is determined to continue with Operation Protective Edge until the last tunnel connecting Gaza to Israel is destroyed.
Today's events are a game changer. The kidnapping is a strategic escalation. Soldiers who were released for Shabbat after almost four weeks of fighting were asked to return to their bases immediately.  At this point it looks like Operation Protective Edge is turning into a war. At least that is the feeling that lingers in the air here.
In a few hours we will light Shabbat candles. During this intimate moment of prayer just before Shabbat enters, the skies are said to open. Our prayers and pleadings in front of the heavenly throne are then said to be delivered.
I would like to ask you to join me in the following prayer for the safe return of Hadar Goldin and the rest of our beloved troops.
A Song of Ascent
Out of the depths have I called Thee, O Lord
Lord, hearken unto my voice;
let Thine ears be attentive to the voice of my supplications.
If Thou, Lord, shouldest mark iniquities, O Lord, who could stand?
For with Thee there is forgiveness, that Thou mayest be feared.
I wait for the Lord, my soul doth wait, and in His word do I hope.
My soul waiteth for the Lord, more than watchmen for the morning; yea, more than watchmen for the morning.
O Israel, hope in the Lord; for with the Lord there is mercy, and with Him is plenteous redemption.
And He will redeem Israel from all his iniquities."
Wishing us all a quiet, peaceful Shabbat
Shabbat shalom
Leah Garber
Vice president
JCC Israel Center