Rosh Hashanah message
The days are getting shorter, the air is cooler. Leaves are blowing in the wind and wayward birds fly high above, looking for something, perhaps new beginnings. The Days of Awe surround us; they fill our hearts and souls with prayers, exaltation and hope. Tonight the Jewish world will celebrate the new Hebrew year by dipping an apple into honey, eating a delicious pomegranate and hoping these sweet and fruitful symbols will mark what will be a wonderful new year.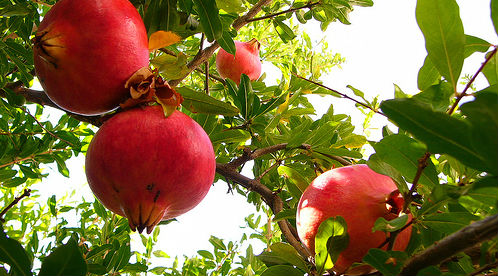 There have been a few weeks of a quiet with the cease-fire between Israel and Hamas. As the last day of the Hebrew year draws close, we have some resolution to the events that sparked the deadly summer conflict. After months of work, Israel finally tracked down the two terrorists who kidnapped and murdered Naftali, Eyal and Gil-Ad, the three Israeli boys who very quickly became all of our sons.
The two terrorists were located in one of Hebron's northern neighborhoods, planning to escape to Jordan and find shelter there. Gil-Ad, Naftali and Eyal's parents thanked Israel's army and Israel's security agencies for tracking their son's murderers and said that the world should know that Jewish life isn't forfeited easily.
And significantly enough, on the same day, Israeli and Palestinian delegations began long-term cease-fire talks in Cairo. The two sides are expected to discuss key issues, including Hamas demands for a seaport and an airport, a prisoner swap, and Israel's insistence on Gaza demilitarization. We will follow these talks and negotiations closely, hoping they will lead to a long, lasting era of quiet, calm and sustainable resolutions.
The Jews around the world in general, and Israelis in particular, disagree on the best path to peace. We differ about the price we think we should pay; we differ in the confidence we have in our neighbors; but we all stand united in our ultimate goal: We want peace. Israel has understood for decades that we can't have it all and we have paid a very high price in the divisive and emotional debates that carry on between political camps, between those who believe in the dream of a Greater Israel and those who think it is a delusion.
Certainly, our hope remains hard to reach. But we should all acknowledge the fact that Jews all over the world pray for peace three times a day, every day. We must never lose hope.
???? ???? ??????? ??? ???? ???? ????? ??? ?? ????? ????? ???
May he who makes peace in high places, make peace for us and for all Israel, and let us say, amen.
Rosh Hashanah is usually the time for resolutions, decisions, and promises. I'm hopeful that 5774's troubles and sadness will clear the way to a wonderful, peaceful and promising 5775. "May the old year end with all of its calamities, and may the new year begin with all of its blessings."
I would like to take this opportunity to personally wish all of you a blessed year. May Israel be noted for its great wonders and achievements, and may we all stand together as one in good times, as we did in challenging times.
Shana tova
Leah Garber
Vice President
JCC Israel Center