Operation Protective Edge — Day 21
On the 21st day of Operation Protective Edge, Israel counts with tears the death of 48 Israeli soldiers killed in battle. These are 48 young lives, 48 bereaved families that will forever mourn. 48 sacrifices so that we can live in peace.
After a quiet night without rockets, following a humanitarian ceasefire that went into Eid al-Fitr, the culmination of the Muslim holiday of Ramadan, Hamas violated the agreement once again with rockets launched across Israel.
This evening has been one of the most difficult for Israel since the operation began. Direct mortar fire near the Gaza border killed four people and wounded another 17, some seriously and critically.
Two rockets, once of which fell near a school, hit the community of Ofakim. Both Carmel and Haifa were under rocket attack and sirens wailed across the country during this evening's escalation. Five terrorists attempted to infiltrate Israel from one of Gaza's deadly tunnels.  The IDF asked residents to stay at home, lock all entries and follow security instructions. The IDF then intercepted and killed the terrorists, whose intent was to reach the center of that particular community to attack local residents.
Mooki, one of Israel's most popular performer sings:
And great light emerges from the darkness,
Revealed.
Night escape from morning
Rising
At times of darkness like these days, the light, bright and shining in so many ways, illuminates everything that is so wonderful, positive and admirable about our Israeli society.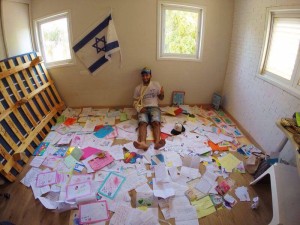 Our hospitals are filled with wounded soldiers. Flowing from each room are  long lines of Israelis from across the country, and visitors from around the world, wishing to stop by, pay their respects, shake a hand and wish these brave boys a full and speedy recovery. By each bedside food, flowers, candy and other gifts pile up. If they aren't lucky, these soldiers will all get  diabetes!
Residents of Beer Sheva and Ashkelon, the two cities where most of these wounded soldiers are hospitalized, and the two cities that have been ceaselessly targeted by Hamas' rockets, have opened their homes to host family members of wounded soldiers. Families they don't know, but families with whom they share fate.
Among these wounded soldiers, some are severely injured. My cell phone social media app- WhatsApp shares the names of these soldiers, asking people to pray for their recovery and pass them along.
This same app shares the names of southern businesses that are suffering. The conflict has prohibited customers and business has dried up. The app invites people to order goods to be sent to them directly, so that we can at least support them financially.
Visiting malls these days gives me great pleasure — by most stores you can find boxes calling for people to donate sweets and candy and personal supplies. These supplies are transferred to our troops, who joke that they have started a  new campaign to support the residents of Israel, whose residents are at the moment out of sweets, having sent them all to the soldiers!
All across the country huge signs state: "We love our Troops," "We are Strong and United," and "Together We Will Win."  These signs fill the streets, building a tremendous sense of morale and unity.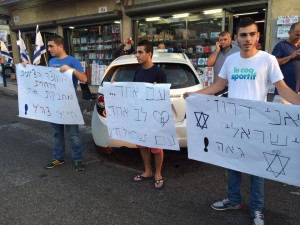 During the weekend, Israel Defense Force (IDF) soldiers fighting in Gaza all week were released to rest at nearby kibbutzim. The kibbutz members, on last minute notice, offered these very tired, dusty soldiers the opportunity to shower at their homes, gave them clean clothes and fed them. My daughter was invited by one of these host families to join her husband, my son-in-law, who she hasn't seen since the ground operation began. She was so moved by this invitation to stay overnight, from complete strangers. And yet, immediately, her sense of awkwardness and feeling like an outsider was replaced with one of complete embrace, of feeling like family, so welcomed, so at home.
August is traditionally the largest IDF recruiting cycle. Due to Operation Protective Edge and the outstanding waves of patriotism and unity, more young Israelis enrolled to combat units than ever — they want to give, to protect, to serve their homeland and to be part of the IDF, which they love.
On a national level, our government officials have declared again and again that Israel has no fight with the people of Gaza, the Palestinians. On the contrary, our weekend newspapers were filled with articles describing the poverty the residents of Gaza live in daily, not just during this conflict. Their poor infrastructure, badly polluted water and neglected utilities contribute to an overall misery. Hamas has causes much of their people's unfortunate circumstances. Several leaders are billionaires, receiving financial aid from countries around the world for Gaza's development. Instead, they abuse these funds.
In contrast, Israel builds a field hospital operating along the Gaza border. We allow any patient or wounded person from the Gaza Strip to receive medical treatment in any of the Israeli hospitals should the need arise. Israel has offered medical aid that includes millions of shekels worth of medicine, chemotherapy, medical equipment and blood donations to Gazans; unfortunately this is aid the Gaza leadership refused to accept.
Even at difficult times such as these 21 days, and especially on ones like today, the light in Israel is very bright. There are so many reasons to be proud, to stay optimistic, and to be hopeful for and appreciative of the blessing of who we are and what we stand for.
Neither Hamas nor any other enemy will ever take this away from us. We developed technology to protect ourselves, we evacuated children from threatened communities, and we have taken all necessary measures to stay safe. But our strongest most powerful weapon is our spirit, our unity, our brotherhood and our pride.
Tonight our skies are cloudy and gray. They seem so sad, but I'm relying on these sunbeamsbrightening our lives. Yes, even on days like this, I see some sun shining in Israel.
Leah Garber
Vice President
JCC Israel Office

---