Jerusalem of Gold

On my drive to Jerusalem this sunny morning following a stormy night, Israel's capital revealed itself, shining and glowing, as if our beloved city isn't sure whether to celebrate or to shy away from all the fuss it has just created. And yet the streets were decorated with Israeli and American flags, waving together with festivity, almost whispering this is a day to remember. Glow Jerusalem, you earned it.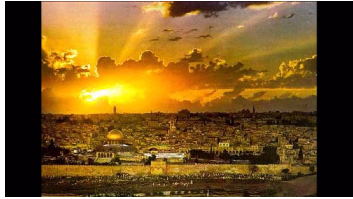 Jerusalem of gold
And of bronze, and of light
Behold I am a violin for all your songs
                    —Naomi Shemer, 1967
Sixty-eight years ago, on Dec. 5, 1949, David Ben Gurion, Israel's first prime minister announced that, "Jewish Jerusalem is an organic and inseparable part of the state of Israel."
And now, Dec. 6, 2017 will be remembered as a historical day where President Donald Trump announced that the United States officially recognizes Jerusalem as the capital of Israel: "Today we finally acknowledge the obvious, that Jerusalem is Israel's capital. This is nothing more or less than a recognition of reality." 
Yesterday's declaration follows the 1995 Jerusalem Embassy Act stating the U.S. is required to move the embassy from Tel Aviv to Jerusalem by a set deadline; however, that act conceded that the move could be put off for six months at a time as long as the president, "determines and reports to Congress in advance that such suspension is necessary to protect the national security interests of the United States."
The Jewish world relates to Jerusalem as its capital with humility and pride.  We lean over old sacred stones that have seen pain and suffering, struggle and crying for the past 3,000 years. We pray facing Jerusalem three times a day, chanting ancient prayers for peace and justice.
And yet, many throughout the Jewish world and beyond raise great concerns regarding this recent declaration. They question its timing and consequences. Timing and consequences have dictated the status quo for the past 20 years, and why no American president has actually fulfilled the 1995 act.
Yes, it's all about timing. In our rough Middle East neighborhood, it's not all about doing the right thing, but rather the wisest thing. Words have power, they can inflame, and they can increase anger, and lead to even greater violence. But does our sacred region really need an incentive to fire up? Do our Palestinian neighbors need new motivations to escalate? Or are these merely poor excuses? Can't a sovereign state, one that has existed for the past 70 years, take pride in its capital and celebrate it? Should legitimate declarations and acts be held hostage to terror, allowing it to lead the agenda, to takeover? Did terror in Jerusalem cease in the past two decades due to the 1995 Act being "on hold"?
I leave you with these questions, all legitimate concerns. Concerns we live with on a daily basis, yearning for the day they will no longer determine our reality.
And what can be more significant, a true reflection of what we are so longing for than the "Good Neighboring" Festival taking place today in Jerusalem's First Station, where Jewish and Arab musical ensembles will sing and dance together, celebrate what Jerusalem should and can be, what Jerusalem is to all of us that believe in peace.
For your name scorches the lips
Like the kiss of a seraph
If I forget thee, Jerusalem,
Which is all gold…
          —Naomi Shemer, 1967
Leah Garber,
Vice President. Director, JCC Israel Center