By Leah Garber
The Jewish lifecycle offers us tremendous highs and deep lows, with lots of mundane ones in between. The same is true for the Jewish calendar, with Yom Kippur, the holiest day of the year at its peak—a day of global Jewish repentance, collective and personal self-reflection, and, most of all, a day to put aside the messiness of life, elevate ourselves, and concentrate on the purpose of it all, the deeper significance of our existence.
Every year, synagogues welcome to their pews rows upon rows of white-garbed worshippers, excited to be together to hear the mournful notes of "Kol Nidrei," Yom Kippur's opening prayer. The spirituality, faith, and destiny we share with fellow worshippers throughout the day diminish the long hours of prayer and the hardship of a fast. A sense of community hovers over the entire crowd.
This year, however, the uplifting spiritual experience of the Days of Awe was different than anything the Jewish world has ever known.
It's hard to imagine that on the holiest day of the year, practically all the world's synagogues remained shuttered—or nearly so, creating an incredibly painful sight.
In my family, we turned the backyard into our own synagogue for the day. Out in the fresh air, we chanted—alone and together,—grasping melodies and tunes carried by the wind from other families' yards. We weren't unique; worshipers across the country and, in fact, throughout the Jewish world had similar experiences.
Israel currently is in the midst of its second full and complete lockdown, an attempt to defeat the pandemic that refuses to give up. It's a difficult battle, one that already has claimed many lives and left others to suffer the disease's effects—medical, social, and economic.
This year's High Holiday season was largely marred by frustration, disappointment, and despair. Initially, we Israelis were proud to be among the world's countries leading the way in overcoming the pandemic. We were among the first to take severe measures that proved to be successful, and our numbers remained impressively low. We followed health and safety guidelines and had full confidence in actions taken by the government.
As virus cases waned, a new government was formed. With unity on its flag, it promised to put aside political rivalries and worn-out debates in favor of fighting the virus and rehabilitating our society, including the bruised economy. Thanks to our efforts and our resilience, the first wave of the pandemic ended with an Israeli victory.
Unfortunately, a second wave of cases followed the first—and this time we weren't prepared. We were too busy redeeming our daily routines to even notice. Our leaders, too, wasted no time renewing their political accusations with pointed fingers that obstructed their vision. Reality escaped them, too, as the virus reared its ugly head once again—in greater numbers than before.
With this second wave, the Israeli public lost trust in the country's leaders, including the prime minister. More than Netanyahu's indictment or his personal demeanor, it was his conduct of the government, lack of courageous leadership, decision-making based on political interests, and overall confusion caused by mixed messages that led people out into the streets. For weeks, thousands gathered in front of Netanyahu's home, calling for his immediate resignation.
The Israeli public is tired, tired and hurting like the rest of the world. Tired from the pandemic and its economic fallout. Tired from the growing rift between secular Israelis and the ultra-Orthodox, between Netanyahu's supporters and his opponents. We're tired from the ongoing fire balloons and rockets fired from Gaza, from threats coming from Syria, from the heat (this was the hottest summer we've had in more than 120 years), and we're tired from living with a lack of trust in our politicians.
Yes, we are tired, but we're not tired enough to give up. In spite of our exhaustion, we remain hopeful that somehow, we will once again overcome it all.
Last year on Yom Kippur, we prayed for peace and prosperity, and apparently, we did well. Our prayers were answered, and Israel is quickly marching toward a new Middle East in which it seems a growing number of Arab countries will follow the United Arab Emirates and Bahrein in making peace—and bringing prosperity to our bleeding region as well.
In other areas we didn't do quite as well. Twelve months ago, who could have imagined we should have paid more attention to this prayer: "Adonai, Our God, keep epidemic from your people." If only…
May 5781 bring us many blessings: peace and prosperity, a renewed Middle East and hope for a better future for the people of our region, a full victory over this pandemic, and a complete recovery from its worldwide damage.
Tonight, as we sit in our decorated sukkot, around a festive table with only a few family members present, let us pray that next Sukkot our tables won't be large enough to accommodate all those we wish to welcome into our sukkot. May they gather with us—without masks, without social distance mandates, without worry, and without pain.
Wishing you a chag Sukkot sameach and a happy, healthy 5781!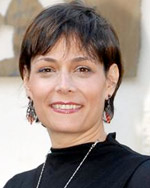 Leah Garber is a vice president of JCC Association of North America and director of its Center for Israel Engagement in Jerusalem.