By Leah Garber
One hundred and ten years ago today, Hadassah, the Women's Zionist Organization of America, among the largest international Jewish women's volunteer organizations, was founded by Henrietta Szold.
Born in Baltimore, Maryland, in 1860, Szold was a deeply devoted Zionist, social activist, and a humanist with an exceptional thirst for Jewish theological knowledge. Only after she realized leading roles in various organizations in the U.S. did Szold, at age 49, discover her life's mission: advancing the health, education, and welfare of residents of the small, pre-state Jewish community of Palestine.
Inspired by practical Zionism and dedicated to achieving her goal to upgrade health care in Palestine, Szold, together with six other women, founded Hadassah. It's fitting that the founding took place during the Hebrew month of Adar, when Purim is celebrated. Tonight will mark the beginning of Adar II, and soon, we will experience the Jewish holiday that, more than any other, shows just how determination and belief in the right cause can forcefully bring about change. In the Purim story, Esther, also known as Hadassah, who is the niece of Mordechai and the queen of Persia, stood out for her courage, decisiveness, and willingness to take risks to change the fate of her people—once again proving Jews' resilience and eternity.
Henrietta Szold and the newly formed Hadassah organization set two goals:
To improve the health system and training of nurses in Palestine
To incorporate Zionist values into the lives of American Jews
Indeed, with financial support from philanthropists, nurses were sent to Palestine and set up a public health system in Jerusalem that gradually grew into a chain of hospitals across the country. In the face of the horrific tragedies following the Holocaust, Hadassah also set up centers in Israel to welcome children who were their families' sole survivors and to offer aid to children of new immigrants from Yemen. In addition, believing it had a role to play in redeeming the Promised Land, Hadassah worked hand-in-hand with the Jewish National Fund (JNF) to raise funds and plant thousands of trees in a forest near Jerusalem, where many visitors were convalescing patients.
Although Szold had no children of her own, she was a mother figure to many of those who came to Israel and was known as the "Mother of the Children's Aliyah." When the young country sought a proper date to celebrate Mother's Day, a 12-year-old girl suggested Szold's yahrzeit as the right date to celebrate motherhood and recognize her unique and outsized contributions to the Jewish state and the Zionist Movement in the U.S.
Led by Szold, Hadassah's support for Israel was not conditional on any particular ideology or political world view. Today's world is a different place, with discourse all too often hijacked by polarization and extremists. Nonetheless, since before the days of Queen Esther, through the Holocaust and the Hadassah children's centers that followed, the Promised Land has struggled through turbulent waves and troubled waters to realize unprecedent achievements, striving to be the Jewish state Szold envisioned.
Today, the streets of Israel are filled with children replacing coronavirus masks with festive face masks to celebrate the beginning of Adar, the happiest month on the Jewish calendar. In a few weeks, we will celebrate Purim and its legacy of faith, justice, and unity. As we will read toward the end of the Book of Esther:
"the same days on which the Jews enjoyed relief from their foes and the same month which had been transformed for them from one of grief and mourning to one of festive joy. They were to observe them as days of feasting and merrymaking, and as an occasion for sending gifts to one another and presents to the poor."
—Esther 9:22
Seventy-seven years after Szold's death, Hadassah hospitals, colleges, and other establishments stand as living proof of the Jewish people's solidarity, mutual responsibility, and boundless goodwill, determination, and humanity—all aimed at building and supporting our Jewish homeland.
As we await Purim and springtime, we continue to pray for the people of Ukraine and a speedy resolution to the conflict in their country. May the season's first flowers embody this hope in our day—even as they remind us of the benevolence and hope Szold spread throughout the land in her own day.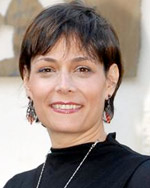 Leah Garber is a vice president of JCC Association of North America and director of its Center for Israel Engagement in Jerusalem.