It was 4:30 a.m., hours before daybreak. Four of us marched to the waiting plane—the U.S. Secretary of Defense, a general, a colonel, and me. Climbing into the cargo bay, we stood before seven flag-draped transfer cases, each one bearing a beloved son, daughter, husband, wife, or parent—their lives abruptly cut short by war. We readied for one of the military's most solemn responsibilities, the dignified transfer to bring home seven of our country's fallen heroes.
With the true cost of war staring me in the face, I raised my voice in prayer. My words, composed especially for these seven souls, promised we would return them to their families, recommit ourselves to the pursuit of peace, and remember always their ultimate sacrifice to ensure all Americans' freedom.
Approximately a decade earlier, in 1999, I had joined the U.S. Air Force Reserve as a chaplain candidate and later served as a chaplain. It was a time of peace and prosperity in our country, and the thought that we would have to mobilize for war then—or ever—was inconceivable.
Then September 11, 2001 happened.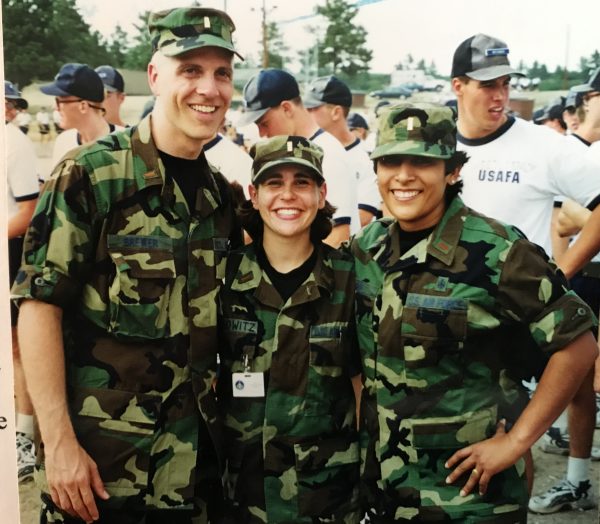 In 2007, I transferred to Dover AFB in Delaware, where as a rabbi, I supported the mission of the military's mortuary. More than that, I grew to understand the value of Memorial Day and my responsibility on this national day of mourning to remember each casualty of war as a person—with dreams, loves, hopes, and commitments left unfulfilled. Learning their stories, meeting their families, and honoring their values are essential if we are to remember them and keep their memories alive.
All too often, the story of Jewish military personnel and their service to our country remains untold. Yet, from the Revolutionary War through today's ongoing fight against terrorism, American Jews have served nobly in all branches of the military, and many are counted among the casualties of war.
For more than a century, JWB Jewish Chaplains Council®, a signature program of JCC Association of North America, has served the religious and spiritual needs of Jewish military personnel and their families, safeguarded their rights, and combated loneliness and isolation. We believe it is incumbent upon America's Jewish community to honor Memorial Day—and all the military heroes who made the ultimate sacrifice for this country—as one of both national and Jewish significance.
On this Memorial Day, Monday, May 25, 2020, please join JWB Jewish Chaplains Council® to mark the inaugural National Jewish Community Observance of Memorial Day. The brief ceremony will stream live at 1 p.m. EDT on JCC Association of North America's Facebook page, giving us an opportunity to honor and remember these heroes for their service and ultimate sacrifice. During the observance, we will hear from families of Jewish fallen heroes of recent wars and learn about their loved ones and the efforts they're making to keep the memories of their heroes alive. The event also will include greetings from senior ranking military officials, prayers honoring fallen heroes of all wars and conflicts involving American troops, and more.
Please join us on Monday, May 25, at 1 p.m. EDT to mark the inaugural National Jewish Community Observance of Memorial Day which will stream live on JCC Association of North America's Facebook page.
For more information about JWB Jewish Chaplains Council®, visit our website and our Facebook page.
Rabbi Tracy Kaplowitz, Ph.D., is director of operations for JWB Jewish Chaplains Council®, a JCC Association signature program. She has experience as a spiritual leader and an educator, and she served in the U.S. armed forces, first as a chaplain candidate from 1999 to 2001 and later as a chaplain from 2005 to 2011.