By Leah Garber
In his will, Theodor Herzl, visionary of the Jewish state, wrote: "I wish to be buried in the vault beside my father, and to lie there till the Jewish people shall take my remains to Israel." Forty-five years later, the Jewish people fulfilled Herzl's wish—a year after the Jewish state he had envisioned was founded.
Recently, the 22nd of the Hebrew month of Av marked the 72nd anniversary of the date Herzl's remains were brought to Israel and buried on the eponymous Mount Herzl in Jerusalem. The site also is the final resting place of the nation's leaders and IDF soldiers killed in the line of duty.
Once a year, I am privileged to join one of the JCC teen groups visiting in Israel for a month-long educational journey, and together we go to the holy Israeli mountain that bears the name of our country's distinguished dreamer, thinker, and activist. My annual pilgrimage revives my Jewish pride, gratitude, and appreciation—and reminds me of the heavy, endless, painful price we pay so teens from around the world can visit our sovereign Jewish state.
A few weeks ago, I joined a group of CITs from Emma Kaufmann Camp, part of the JCC of Greater Pittsburgh, for the trek. Raised in families for whom Jewish education and Jewish camp are top priorities, they represent all that is good and beautiful in North America's vast Jewish community. There was a sublime feeling in the air on Mount Herzl that day, as if we were walking on sacred ground that treasures not only devotion and faith, but also unfulfilled dreams, interrupted love affairs, brotherhoods of warriors. In that soil is an uncompromising belief in the righteousness of Herzl's vision and our existence as a people in an independent, sovereign, Jewish, and democratic state.
In the scorching mid-summer sun, we walked in silence, attentive to the stories of Vadim, the group's tour guide. His poignant telling of Israeli stories, in times of war and times of peace, ensures they will live in the psyche of these American teens—and affect who they are as Jews. In the walking and the talking, Israel and its history emerged, beginning at the tomb of David Ben-Gurion, the first prime minister of the state of Israel and the one who announced its establishment on May 14, 1948.
The journey took the teens through kibbutzim and cities, biblical landscapes, and cultural, scientific, and technological sites. It brought them together with their Israeli peers, who soon will join the army to protect us—all of us. Along the way, they heard heritage stories of people from a hundred different diasporas, all of whom found a home in Israel and encountered Israeli determination and resilience in the face of ongoing threats. They came upon Israeli hearts that perform acts of tikkun olam daily and Israeli hope as expressed in the phrase "to build and be built,"—an unyielding determination to continue to build the Jewish state—and to be built by it as a people, as human beings, as Jews.
Sadly, these same teens increasingly are exposed to discourse that is gaining momentum in North America—incendiary, saturated with hatred, distortions, and lies, and completely detached from reality. Spewed by hostile protesters, its proponents feed on half-truths at best, more often on lies and a serious lack of understanding of Israel's complicated reality that has existed since the nation was born 73 years ago.
Such discourse hurts Israel and often leaves the country rocking like a wrecked ship in a sea of stormy anti-Israel propaganda, powerful waves of antisemitism lapping its sides. Thanks to Vadim's narrative and their journey amongst the graves, these young people stand at Herzl's impressive tombstone and begin to connect the dots. Here, atop Mount Herzl, the puzzle starts to take shape, the stories take on meaning, and a new part of their worldview slowly comes into focus.
I'm inspired by the sense of holiness we experienced on Mount Herzl and know it will not soon dissipate. When they return home, it will remain with the young people as they confront the warped discourse, shielding them with an armor of righteousness, faith, and Jewish pride, rooted in Herzl's words just one day before he died: "Greet Palestine for me. I gave my heart's blood for my people."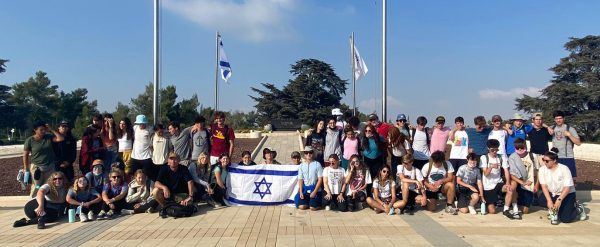 Leah Garber  is a vice president of JCC Association of North America and director of its Center for Israel Engagement in Jerusalem.