By Denise Wolf
As a new executive seeking to strengthen the collective experience of our diverse staff and community, I decided that the Youngstown JCC in Ohio should participate in JCulture, a JCC Talent offering from JCC Association in partnership with Ta'amod and other organizations. Although I was hopeful we would experience a tangible benefit, I didn't realize at the time just how profound the effect would be throughout our staff family.
JCulture focuses on safety, respect, equity, and diversity, equality, inclusion, and belonging. Some of the educational outcomes of the initiative include:
A shared definition of power
A shared understanding of the hallmarks of a healthy, high functioning organizational culture
Knowledge of the definitions of harassment and the ability to identify various forms of harassment
An understanding of a bystander intervention framework for harmful behavior or interactions
Developed strategies for intervention when witnessing harmful or problematic behavior or patterns
Beginning in the fall of 2021, three of us—the assistant executive director, the wellness and aquatics director, and I—participated in the one-year experience that featured a "train the trainer" model facilitated by Ta'amod. Once we were trained, we brought what we had learned back to our colleagues through staff meetings, special JCulture sessions, and seasonal training. We also incorporated JCulture into our new staff orientation sessions, and within eight months, we trained nearly 150 individuals—our entire 127-person staff along with some Federation agency leaders. Ours is an integrated JCC/Federation community, so we also will be training staff from other Jewish agencies in Youngstown, including our assisted living facility, nursing home, Jewish Family and Community Services, JCRC, and the rest of the Federation staff. In 2023, I want to share JCulture with my board and key lay leaders as well.
Thus far, JCulture has had a significant impact on our JCC here in Youngstown. We have applied a Jewish lens to further our understanding of specific issues; increased feelings of psychological safety among staff; and created a culture of sharing feedback with employees, and, for supervisors, responding with empathy. As we review Jewish concepts relevant to our everyday work and gain a better grasp of how to create a culture focused on the elements of JCulture—safety, respect, equity, diversity, and inclusion—we have truly enhanced Jewish learning on our team and Jewish life within our JCC.
For example, this past year we had two separate scenarios in which JCulture training helped staff members report inappropriate behavior and understand how they could intervene even though they witnessed the behavior but were not directly involved. In addition, thanks to JCulture, we expanded our staff orientation and training, and our team members know that we value their opinions and ideas and provide a workplace in which all individuals are free to express themselves.
Through JCulture we have learned that respecting and valuing others is essential to creating an environment in which every individual feels welcome. Regardless of department, position, or longevity, every member of our staff understands that it takes all of us to open our JCC and offer excellent programs and services every day.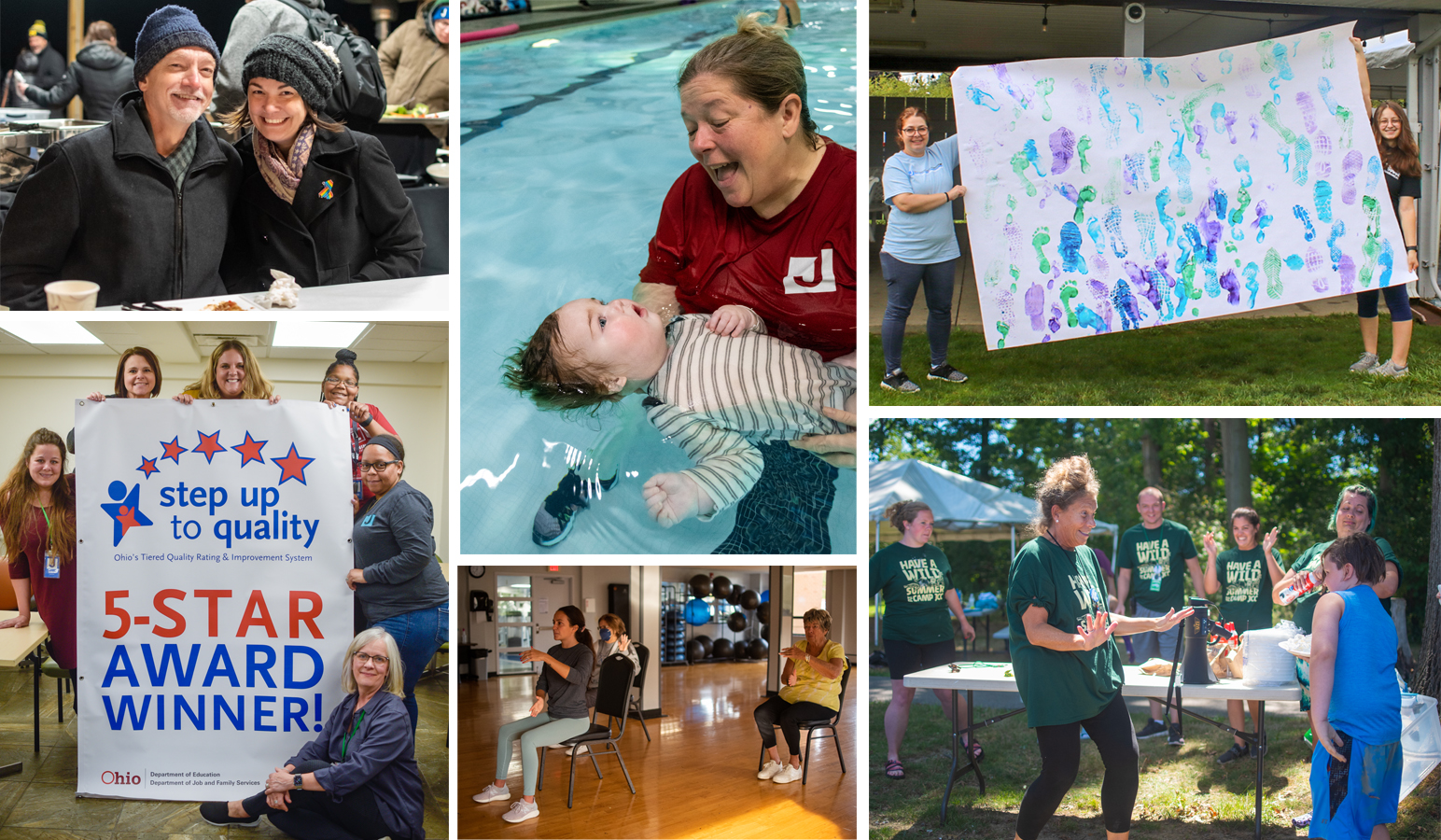 (Clockwise) Rebecca Soldan, assistant executive director and lead trainer for JCulture, with her dad, who teaches yoga at the JCC; A Youngstown JCC staff member with different abilities teaches a child with special needs; Dash Splash at the JCC; the author prepares to take a pie in the face during summer camp at the Youngstown JCC; Group X Step Class at the J; and Ohio 5-Star Winner.
As we enter our second year as a JCulture workplace, we are analyzing the budget to ensure we can continue to provide ongoing JCulture training to everyone associated with our agency. Here in Youngstown, JCulture and JCC Talent not only help us demonstrate exactly how the JCC Movement invests in its professionals; they also strengthen our orientation and training sessions and all the systems that support our recruitment, growth, and retention of staff. Finally, JCulture ensures that everyone in our community can articulate the principles and values that are most important to us as a JCC family, making our JCC an inviting, welcoming place for all.
Denise Wolf is the chief executive officer of the Youngstown JCC in Ohio.