By Leah Garber
Autumn's wandering birds carry foreign scents and a touch of mystery. What secrets hide under their wings, carried like blowing leaves by cool winds? Exaltation is in the air.
It is Elul, the Hebrew month we use to prepare for the Days of Awe that begin with the holiness of Rosh Hashanah and end 10 days later with Yom Kippur.
Meaningful days lie ahead. Festive days. Days of forgiveness and reflection, of serenity and celebration, days of new resolutions, renewed promises, and, most of all, great hope. Hope that we will be blessed with a better year in all ways as we leave behind the miseries, hardships, and pains of 5780 and welcome 5781.
The vast majority of Israelis— close to 70%—live secular lives, proud citizens of the Jewish state who define their Jewishness with one designation alone: Israeli. They do not normally attend synagogue services or observe other Jewish rituals. Being Israeli is enough.
But, as the amount of light in the days lessens, so does Israelis' cynicism, leaving space for spiritually, tradition, and deep-rooted rituals.
These are the days during which hundreds of thousands of Israelis visit Jerusalem's synagogues at midnight to join in reciting Selichot prayers, traditional penitential communal prayers seeking Divine forgiveness, as the gates of heaven open. The month—and the prayers—invite melodies, tears, and pleas from across the world to soften whatever lies ahead.
It's a beautiful scene. Families, children, and groups of adults meet late at night, armed with to-go coffee, a warm wrap, and anticipation and desire to be part of a different experience that is at once exotic and yet their own. It is a return home—to roots and childhood scents. It's an uplifting experience, leading all groups ultimately to the Kotel, the Western Wall, at the end of the night. How odd, yet so wonderful, to hear traffic reports at midnight, warning drivers to avoid the Old City's jammed streets.
But not this Elul.
As with everything else, services are limited to 20 people, and almost all group programming and gatherings have been canceled. Whether adhering to restrictive guidelines or driven by self-caution and hesitation, reluctantly, most people are staying home.
How will High Holiday services look this year? Will synagogues be packed with worshipers standing side by side, whispering prayers, chanting, and reciting. Will shofars be blown, joining voices, carrying prayers and remorse from Israel's synagogues, or will Rosh Hashanah and Yom Kippur be different this year?
It seems that minyanim (groups of 10 worshipers) will meet in capsules or pods—in private homes, backyards, schools, and community centers. Most likely, a few groups will coordinate, coming together to hear the shofar.
Seeing friends at services, singing together with hundreds of others, greeting them all, and then sharing thoughts of "who wore it better"—the very things that make the holidays festive—will not be part of this year's High Holidays season in the ways we known it in the past.
Maybe it's not a bad thing, though. Perhaps it's an opportunity to reflect on the essence of the day and our own behaviors and truly to ask for forgiveness. In fact, I think such things often are better done in small, intimate groups that offer little temptation or distraction—just me, God, my prayers, my remorse, my hope. Of course, these many personal experiences will be joined by all others, carving their way to heaven, shaking the walls of eternity, and, we can hope, changing the verdict.
Some 30,000 Israelis, mostly men, travel to the central Ukrainian city of Uman every year to attend Rosh Hashanah services at the grave of Rabbi Nahman de Breslev, founder of the Breslev Hassidic movement. Packed flights carry them to and from Uman for what is known as a Hassidic, spiritual Woodstock.
This year, Israel's health ministry is discouraging travel to Uman as part of the country's attempts to eliminate exposure to COVID-19, not only for those going to the Ukraine, but also for their families and friends back home. As you might imagine, Israel's ultra-Orthodox community considers these restrictions discriminatory and is calling for members to be allowed to participate in the massive gatherings.
Many already have made their way to Uman, prepared to spend a month away from home, doing whatever it takes to be beside their rabbi's holy grave this year, in spite of the pandemic. Nonetheless, this year, Elul and the High Holidays will be like none we've ever seen before—in Israel, in North America, and across the Jewish world.
This season, may wandering birds find serenity; indeed, may we all find serenity. May 5781 bring relief and respite, cure and blessings, and may we have the strength to endure the hardships and challenges of this ongoing pandemic.
"Eternal, our God, hear our voice, have compassion upon us, and accept our prayer with favor. Eternal our God, Let the new year be a good year for us."
"אבינו מלכינו, שמע קולנו, חדש עלינו שנה טובה"
Shanah tova,
Leah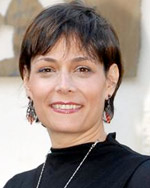 Leah Garber is a vice president of JCC Association of North America and director of its Center for Israel Engagement in Jerusalem.
Looking for other ways to stay connected to the JCC Movement? Sign up below for email updates, including our new quarterly newsletter, and visit us on Facebook, Instagram, and Twitter.