By Leah Garber
"In every generation, a person is obligated to see himself as if he had left Egypt: as it is said: "You shall tell your child on that day, it is because of this that God did for me when I left Egypt."
— Mishnah Tractate Pesachim; Exodus 13:8
Later this week, as Jews around the world gather at seder tables to celebrate the first night of Passover|Pesach, we should all remember not only to rejoice and give thanks but also to commemorate Jewish resilience and heroism. Pesach commemorates the liberation of the ancient Israelites from 400 years of slavery in Egypt. Since then, the holiday has become a celebration of freedom and redemption, a time to remember our past as slaves and how the experience is integral to our identity as a people and to our values. Instead of separating ourselves from this horrific experience, we have made it a cornerstone of our peoplehood.
Pesach embodies the entirety of Jewish history. Even as slaves, the Israelite minority clung to its unique ways—differing in language, name, and dress from the Egyptian majority. Despite persecution and torture, the minority lost neither resilience nor faith. Rather, our physically trampled people underwent a fundamental transformation from enslavement to freedom.
The 400 years of suffering in Egypt did not end with the Exodus, however. It continued through an additional 40 years of wandering in the desert and beyond. Indeed, since the Exodus of our ancestors, our people have struggled to exist as a nation, to live safely in our homeland, and to grow and prosper in every sense. The obstacles the ancient Hebrews encountered when they left Egypt still afflict us 3,000 years later, and our Palestinian neighbors still challenge our right to sovereignty in the Land of Israel.
Pharaoh's will to enslave the Israelites came face to face with their strong, determined spirit, as we will read in the Haggadah:
'And they became there a nation' teaches that the Israelites were a distinct people in Egypt. 'Great, mighty,' as it is said: 'And the children of Israel were fruitful and increased abundantly, and multiplied and became very, very mighty, and the land became filled with them.'
Despite more than 70 years of independence, the endless need to justify and fight for it is exhausting, frustrating and often costly. The bloody price tag is a constant reminder that despite the sovereignty we achieved decades ago, some continue to question our existence. In recent weeks 14 Israelis paid that price. It is a price that all too many—victims of our battle since we were held in bondage by Pharaoh—have paid for the right to live in our country, the right to be Jews. It is a price paid by Jews not only in Israel but around the world as well.
We remember border police officers Yazan Falah and Shirel Aboukrat; police officer Amir Khoury; Ya'akov Yisrael Shalom, a father of five; Avishai Yehezkel, who won't ever know his second child, still on the way; Ukrainian foreign workers Victor Sorokopt and Dimitri Mitrik, who died in a battle that is not theirs; 67-year-old Menahem Yehezkel; Rabbi Moshe Kravitzky, a father of four; Laura Yitzhak, a mother of three daughters; Doris Yahbas, another mother of three; Barak Lufan a father of three; and best friends from childhood, Tomar Morad and Eytam Magini.
This list of sacred souls includes Jews and non-Jews, Israelis and non-Israelis, human beings bound together forever. Hatred knows no bounds and lethal bullets do not differentiate in any way.
Our own destiny involves the fate of our neighbors, the great majority of whom are peace-seekers, victims of rancor, and hostages at the hands of terrorists whose reality does not include ideas of reconciliation, coexistence, or living together peacefully in a shared future.
Around our beautiful Pesach seder tables, we will read the Haggadah, allowing it to guide us through the story of our ancestors' slavery in Egypt, their suffering and hardship, their journey to peoplehood, and their trek to the top of Mt. Sinai to receive the Torah.
Hoping for days of quiet and a holiday of comfort and joy.
Chag Pesach sameach.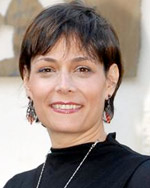 Leah Garber is a vice president of JCC Association of North America and director of its Center for Israel Engagement in Jerusalem.