Looking to Enrich Your Rabbinate or Cantorate, as Well as Your Life? JWB Can Help!
As many as one and a half percent of today's U.S. military personnel are Jewish. That's approximately 10,000 individuals who serve our country, keeping all Americans and our way of life safe. It's also 15,000 family members—spouses and children—who stick with them, living, working, and going to school in all corners of the world.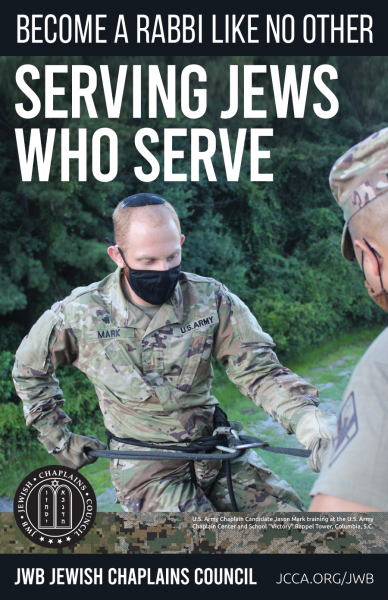 In our country, which promises religious freedom to all, Jewish American service men and women deserve opportunities to experience Jewish life, learning, and celebration wherever their service takes them and their families.
And as a military chaplain, you can provide it.
Whether it's leading a Passover seder or Shabbat services or helping families welcome the New Year at Rosh Hashanah or mourn the loss of a loved one, Jewish military chaplains are uniquely qualified to provide meaningful connections to Jewish life for members of the military. They're also trained to facilitate religious life for people of other faiths and to care for all.
Today's military needs rabbis and cantors, as well as rabbinical and cantorial students who are ready to take on these challenges—and in the process, enrich their rabbinate or cantorate and their own lives immeasurably.
Are you up for the task—and the rewards?
Yes. I'm an ordained rabbi/cantor, please tell me more.
Yes. I'm a rabbinical/cantorial student, please tell me more.